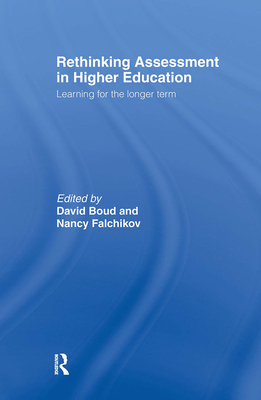 Rethinking Assessment in Higher Education (Hardcover)
Learning for the Longer Term
Routledge, 9780415397780, 206pp.
Publication Date: February 1, 2007
Other Editions of This Title:
Paperback (2/15/2007)
* Individual store prices may vary.
Description
Assessment is a value-laden activity surrounded by debates about academic standards, preparing students for employment, measuring quality and providing incentives. There is substantial evidence that assessment, rather than teaching, has the major influence on students' learning. It directs attention to what is important and acts as an incentive for study.
This book revisits assessment in higher education, examining it from the point of view of what assessment does and can do and argues that assessment should be seen as an act of informing judgement and proposes a way of integrating teaching, learning and assessment to better prepare students for a lifetime of learning. It is essential reading for practitioners and policy makers in higher education institutions in different countries, as well as for educational development and institutional research practitioners.
About the Author
David Boud is Professor of Adult Education in the Faculty of Education, University of Technology, Sydney. He has been Foundation Director of the Professional Development Centre, University of New South Wales and President of the Higher Education Research and Development Society of Australasia. He has written widely on teaching, learning and assessment in higher and professional education and workplace learning. Nancy Falchikov is a psychologist by training and uses her discipline to help improve teaching and learning. She has taught in higher education for many years, and has conducted research into student involvement in assessment and peer learning. She has written widely on these subjects and is author of two books, Learning Together: Peer Tutoring in Higher Education and Improving Assessment through Student Involvement, both published by RoutledgeFalmer. She is presently a Research Fellow at the University of Edinburgh and Honorary Associate in the Faculty of Education at the University of Technology, Sydney.