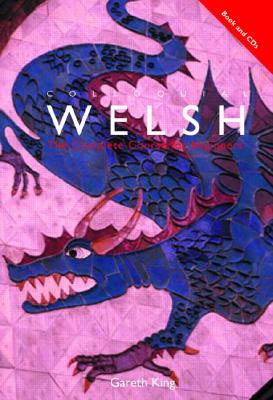 Colloquial Welsh (Paperback)
The Complete Course for Beginners
Routledge, 9780415461139, 316pp.
Publication Date: October 1, 2008
Other Editions of This Title:
Paperback (8/5/2015)
Paperback (10/1/2008)
Hardcover (9/18/2018)
* Individual store prices may vary.
Description
Colloquial Welsh provides a step-by-step course in Welsh as it is written and spoken today. Combining a user-friendly approach with a thorough treatment of the language, it equips learners with the essential skills needed to communicate confidently and effectively in Welsh in a broad range of situations. No prior knowledge of the language is required.
Key features include:
progressive coverage of speaking, listening, reading and writing skills
structured, jargon-free explanations of grammar
an extensive range of focused and stimulating exercises
realistic and entertaining dialogues covering a broad variety of scenarios
useful vocabulary lists throughout the text
additional resources available at the back of the book, including a full answer key, a grammar summary and bilingual glossaries
Balanced, comprehensive and rewarding, "Colloquial Welsh" will be an indispensable resource both for independent learners and students taking courses in Welsh.
Course components:
The complete course comprises the book and audio materials. These are available to purchase separately in paperback, ebook, CD and MP3 format. The paperback and CDs can also be purchased together in the great-value Colloquials pack.
Paperback: 978-0-415-46113-9 (please note this does not include the audio)
CDs: 978-0-415-46128-3
eBook: 978-0-203-42701-9 (please note this does not include the audio, available from www.tandfebooks.com)
MP3s: 978-0-415-47056-8 (available from www.tandfebooks.com)
Pack: 978-0-415-46127-6 (paperback and CDs)
About the Author
Gary King has a first degree from Cambridge and a Master's from University of Wales. He taught Welsh as a second language from 1982 to 1998 and he is now UCAS co-ordinator, Oxbridge applications co-ordinator and Latin co-ordinator for a large sixth-form college.