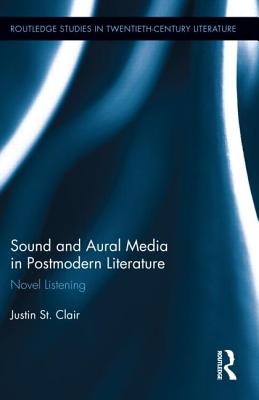 Sound and Aural Media in Postmodern Literature
Novel Listening (Routledge Studies in Twentieth-Century Literature #32)
Hardcover

* Individual store prices may vary.
Description
This study examines postmodern literature- including works by Kurt Vonnegut, William Gaddis, Don DeLillo, Philip K. Dick, Ishmael Reed, and Thomas Pynchon -arguing that one of the formal logics of postmodern fiction is heterophonia: a pluralism of sound. The postmodern novel not only bears earwitness to a crucial period in American aural history, but it also offers a critique of the American soundscape by rebroadcasting extant technological discourses. Working chronologically through four audio transmission technologies of the twentieth century (the player piano, radio, television audio, and Muzak installations), St. Clair charts the tendency of ever-proliferating audio streams to become increasingly subsumed as background sound. The postmodern novel attends specifically to this background sound, warning that inattention to the increasingly complex sonic backdrop allows for ever more sophisticated techniques of aural manipulation-from advertising jingles to mood-altering ambient sound. Building upon interdisciplinary work from the emerging field of sound culture studies, this book ultimately contends that a complementary, yet seemingly contradictory double logic characterizes the postmodern novel's engagement with narratives of aural influence. On the one hand, such narratives echo and amplify postwar fiction's media anxiety; on the other hand, they allow print fiction to appropriate the techniques of aural media. This dialectical engagement with media aurality-this simultaneous impulse to repudiate and to utilize-is the central mechanism of the heterophonic novel.
Routledge, 9780415661393, 186pp.
Publication Date: March 27, 2013
About the Author
Justin St. Clair is Assistant Professor of English at the University of South Alabama, US.