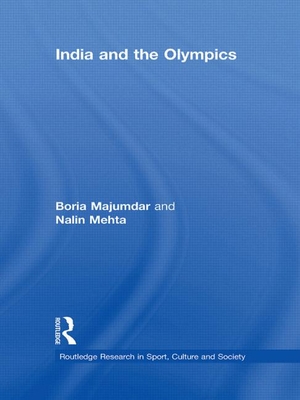 India and the Olympics (Routledge Research in Sport #2) (Hardcover)
Routledge, 9780415804974, 528pp.
Publication Date: April 1, 2009
Other Editions of This Title:
Paperback (9/27/2012)
* Individual store prices may vary.
Description
In most accounts of Olympic history across the world, India's Olympic journey is a mere footnote. This book is a corrective. Drawing on newly available and hitherto unused archival sources, it demonstrates that India was an important strategic outpost in the Olympic movement that started as a global phenomenon at the turn of the twentieth century. Among the questions the authors answer are: When and how did the Olympic ideology take root in India? Who were the early players and why did they appropriate Olympic sport to further their political ambitions? What explains India's eight consecutive gold medals in Olympic men's hockey between 1928 and 1956 and what altered the situation drastically, so much so that the team failed to qualify for the 2008 Beijing Games? India and the Olympics also explores why the Indian elite became obsessed with the Olympic ideal at the turn of the twentieth century and how this obsession relates to India's quest for a national and international identity. It conclusively validates the contention that the essence of Olympism does not reside in medals won, records broken or television rights sold as ends in themselves. Particularly for India, the Olympic movement, including the relevant records and statistics, is important because it provides a unique prism to understand the complex evolution of modern Indian society.
About the Author
Boria Majumdar is Senior Research Fellow at La Trobe University, Melbourne. He has taught aspects of the Olympic movement at the University of Chicago and the University of Toronto. Executive Academic Editor of Soccer and Society and Sport in Society, he also serves as joint General Editor of the series Sport in the Global Society. His most recent books include The Illustrated History of Indian Cricket and Goalless: The Story of a Unique Footballing Nation. Nalin Mehta is an Honorary Research Fellow at La Trobe University, Melbourne and a Member of the International Board of Scholars, International Football Institute, University of Central Lancashire. A DFID-Commonwealth scholar, he has been a Fellow of the International Olympic Museum, Laussane, and Visiting Fellow at Australian National University, Canberra. A broadcast journalist for over ten years, he has worked with several India TV networks, most recently as Deputy News Editor at Times Now. Author of India on Television: How Satellite News Channels have Changed the Way We Think and Act, he currently works for UNAIDS.
or
Not Currently Available for Direct Purchase