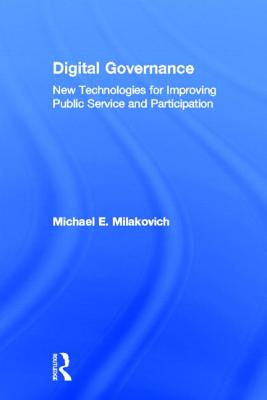 Digital Governance
New Technologies for Improving Public Service and Participation
Hardcover

* Individual store prices may vary.
Other Editions of This Title:
Paperback (9/27/2011)
Description
The application of digital information and communication technologies (ICTs) to reform governmental structures, politics, and public administration is widely and perhaps naively viewed as the twenty-first century "savior," the enlightened way to reinvigorate democracy and improve the quality of citizen services. In this timely and thorough analysis, Michael Milakovich examines the assumptions underlying the 'e-government revolution' in light of the financial exigencies facing many commercial enterprises, governments and other organizations. Computer-driven information and communications technologies are impacting all aspects of public sector service delivery worldwide and many governments are moving away from an agency-centric toward a more citizen-centric approach to offering online services.
This book explores the transition from electronic government (e-gov) to digital or d-governance, emphasizing the importance of citizen participation and information technology to accomplish the change. The chapters concentrate on strategies for public administration organizational transformation and their implications for improved and measurable government performance. Digital self-governance is a broader umbrella-term referring to the networked extension of ICT relationships to include faster access to the web, mobile service delivery, networking, teleconferencing and use of multi-channel information technologies to accomplish higher-level two-way transactions. The shift from bureaucracy-centered to customer-centric service orientation is viewed as a means to restore public trust and improve service quality: Digital governance is the next step for governments at all levels to reduce costs, meet citizen expectations, and achieve economic recovery goals.
Routledge, 9780415891431, 376pp.
Publication Date: September 27, 2011
About the Author
Michael E. Milakovich is Professor of Political Science and International Studies at the University of Miami, Coral Gables, Florida.