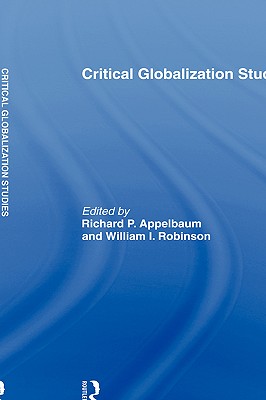 Critical Globalization Studies (Hardcover)
Routledge, 9780415949613, 528pp.
Publication Date: February 5, 2005
Other Editions of This Title:
Paperback (2/1/2005)
* Individual store prices may vary.
Description
Critical Globalization Studies is the first volume to map out a critical approach to the rapidly growing field of gloablization studies. Centrally concerned with global justice, the contributors both scrutinze and recast the subject. As well, the volume serves as a bridge connecting scholars of globalization, the policy world, and the global justice movement. The essays examine a wide range of topics too often left at the margin of globalization studies and in the process raise a host of crucial questions. Unique in its extensive and comprehensive approach, Critical Globalization Studies develops new and important theoretical perspectives on globalization while engaging global social activism. It is an indispenseable guide for both academics and practitioners.
About the Author
William Robinson is Professor of Sociology at the University of California, Santa Barbara. He is the author of Promoting Polyarchy, which won the Distinguished Scholarship Award of the Political Economy of the World System section of the American Sociological AssociationRichard Appelbaum is Professor of Sociology and Global and International Studies at the University of California, Santa Barbara. He has published opinion pieces in The Los Angeles Times and The American Prospect. His most recent books include Behind the Label, States and Economic Development in the Asian Pacific Rim, and Sociology, and introductory textbook.