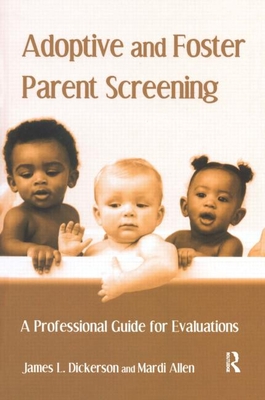 Adoptive and Foster Parent Screening (Hardcover)
A Professional Guide for Evaluations
Brunner-Routledge, 9780415952682, 236pp.
Publication Date: October 10, 2006
* Individual store prices may vary.
Description
Screening applicants for adoption or foster homes has life-altering consequences for the children involved, yet there are incredibly few programs available to train screeners. The educational system that certifies thousands of social workers each year does not understand the specialized training required to screen adoptive and foster parents; social work schools provide minimal interview training and what training they do provide focuses on therapeutic interview techniques rather than screening skills. There is a clear need for a book like Adoptive and Foster Parent Screening, one that can be incorporated into course requirements and used by working social workers and psychologists involved with adoption and foster parent screening.
Adoptive and Foster Parent Screening, written by a former social worker, who has placed hundreds of children into adoptive and foster homes, and a clinical psychologist, meshes the best of psychology and social work experience into a definitive guide for screening adoption and foster home applicants. The book provides information on:
evaluating aberrant behavior and unhealthy parenting attitudes
interview techniques
psychological testing.
Adoptive and Foster Parent Screening is based on case histories, research data, and interpretive analysis. The book is written in an accessible style free of technical language, thus making it appropriate for college-level students and professionals who don't have time to sift through empirical data to obtain accessible information that they can adapt to their profession.
About the Author
Mardi Allen, Ph.D. was the 2002-2003 president of the Association of State and Provincial Psychology Boards (ASPPB). She earned her doctorate in psychology at the University of Southern Mississippi with an emphasis in Child, Developmental and School Psychology. She is a book reviewer for Contemporary Psychology, a journal published by the American Psychological Association, and she has been published in the Journal of Clinical Psychology.

James L. Dickerson, a former public agency social worker, worked to place hundreds of children in foster and adoptive homes over a seven-year period. He later worked in a private agency focusing on international adoptions. He has written about foster and adoptive parenting for professional journals such as the Ontario Journal of Children's Aid Societies. He is also the author of numerous non-fiction books and over 2,000 magazine and newspaper articles.