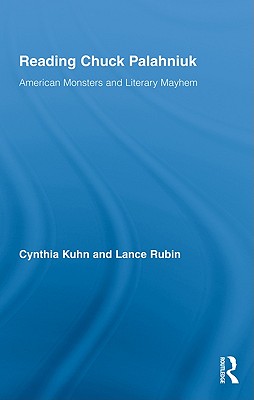 Reading Chuck Palahniuk
American Monsters and Literary Mayhem (Routledge Studies in Contemporary Literature #2)
Hardcover

* Individual store prices may vary.
Description
Reading Chuck Palahniuk examines how the author pushes through a variety of boundaries to shape fiction and to question American identity in powerful and important ways. Palahniuk's innovative stylistic accomplishments and notoriously disturbing subject matters invite close analysis, and the new essays in this collection offer fascinating insights about Palahniuk's texts, contexts, contributions, and controversies. Addressing novels from Fight Club through Snuff, as well as his nonfiction, this volume will be valuable to anyone with a serious interest in contemporary literature.
Routledge, 9780415998109, 231pp.
Publication Date: August 1, 2009
About the Author
Cynthia Kuhn is Associate Professor of English at Metropolitan State College. Lance Rubin is Associate Professor and Humanities Chair at Arapahoe Community College.