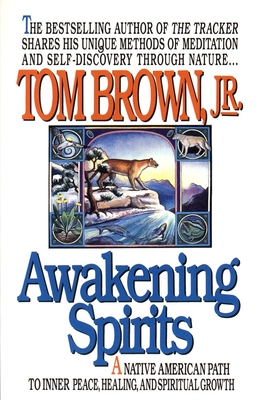 Awakening Spirits
A Native American Path to Inner Peace, Healing, and Spiritual Growth
Paperback

* Individual store prices may vary.
Description
For the first time,
Tom Brown, Jr.
--America's most acclaimed outdoorsman--shares the unique meditation exercises used by students of his personal Tracker classes. These techniques for finding inner peace and harmony with nature are based on the wisdom of his greatest teacher, a native American called Grandfather. Now all of us can learn these spiritual lessons of life through the earth around us--and deep within ourselves.
"This book may challenge the very core of your belief systems and shake up your personal philosophy, but that is not my intent. What I set forth in this book is meant to enhance and magnify your beliefs. Simply, the techniques and skills can be easily integrated into all philosophies, religions, and belief systems. After all, Grandfather considered these techniques the common thread that runs through all things..." Tom Brown, Jr.
Awakening Spirits includes advanced methods of relaxation, insight, healing, and communication with nature and spirits. Through the dynamic meditation called Sacred Silence, the reader can experience the joys of self-discovery--and the power of a personal Vision Quest.
Berkley, 9780425141403, 224pp.
Publication Date: April 1, 1994
About the Author
Tom Brown, Jr. began to learn hunting and tracking at the age of eight under the tutelage of an Apache elder, medicine man, and scout in Toms River, New Jersey, and is the author of 16 books on nature. He was the technical advisor on The Hunted, a major motion picture starring Tommy Lee Jones and Benecio Del Toro.  In 1978, Tom founded the Tracker School in the New Jersey Pine Barrens where he offers more than 25 classes about wilderness survival and environmental protection.
or
Not Currently Available for Direct Purchase