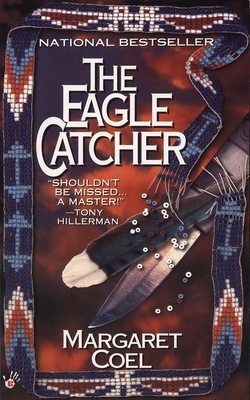 The Eagle Catcher (A Wind River Reservation Mystery #1) (Mass Market)
Berkley, 9780425154632, 256pp.
Publication Date: September 1, 1996
Other Editions of This Title:
Paperback (12/31/2012)
* Individual store prices may vary.
Description
When the Arapaho tribal chairman is found murdered in his tepee at the Ethete powwow, the evidence points to the chairman's nephew, Anthony Castle. But Father John O'Malley, pastor of St. Francis Mission, and Vicky Holden, the Arapaho lawyer, do not believe the young man capable of murder. Together they set out to find the real murderer and clear Anthony's name.

The trail that Father John and Vicky follow winds across the high plains of the Wind River Reservation into Arapaho homes and community centers and into the fraud-infested world of Indian oil and land deals. Eventually it leads to the past—the Old Time—when the Arapahos were forced from their homes on the Great Plains and sent to the reservation.

There in the Old Time, Father John and Vicky discover a crime so heinous that someone was willing to commit murder more than a hundred years later to keep it hidden. As they close in a killer who does not hesitate to kill again, they discover they have become the next targets...

Critics have praised The Eagle Catcher as a tightly crafted mystery that blends Native American culture and history with contemporary issues and fast-paced action. It introduced two intelligent, compassionate sleuths: Father John O'Malley, S.J., a history scholar and recovering alcoholic, exiled to an Indian mission on the Great Plains, and Vicky Holden, an attorney who, after ten years in the outside world, has returned to the reservation to help her people.
About the Author
Margaret Coel is the New York Times bestselling, award-winning author of The Thunder Keeper, The Spirit Woman, The Lost Bird, The Story Teller, The Dream Stalker, The Ghost Walker, The Eagle Catcher, and several works of nonfiction. She has also authored many articles on the people and places of the American West. Her work has won national and regional awards. Her first John O'Malley mystery, The Eagle Catcher, was a national bestseller, garnering excellent reviews from the Denver Post, Tony Hillerman, Jean Hager, Loren D. Estleman, Stephen White, Earlene Fowler, Ann Ripley and other top writers in the field. A native of Colorado, she resides in Boulder.
Praise For The Eagle Catcher (A Wind River Reservation Mystery #1)…
"Shouldn't be missed…Coel is a master."—Tony Hillerman

"Tony Hillerman calls Margaret Coel 'a master' of her craft. It is no wonder. [She] brings Native Americans to the fictional frontier in a way that honors the genre." —The Denver Post

"An intense and fascinating story of avarice, tragic old wrongs, and ultimate justice…[it] takes our breath away."—Earlene Fowler

"Coel masterfully interweaves modern mysteries with the richness of Native American history and creates multilayered relationships in the larger tapestry of community life."—Ventura (CA) County Star

"Now widely considered the most accomplished heir to Tony Hillerman's legacy." —Scripps Howard News Service

"A great storyteller."—The Daily Oklahoman

"Coel weaves often insightful commentary about Arapaho culture, bigotry and the widespread alcoholism among Western tribes. Likeable, well-drawn characters and a lively pace mark this novel."—Publishers Weekly

"Told with conviction and love."—Kirkus Reviews

"Will inspire comparisons to the work of Tony Hillerman, but its insights into the Arapaho way of life in our century are unique to this form."—Loren D. Estleman

"Welcome Margaret Coel to the ranks of esteemed western mystery writers…The Eagle Catcher is not only an alluring fresh mystery told with the authoritative voice of a historian, it is also a thoughtful testimony to the clash of cultures that endures in the West."—Stephen White

"A first-rate mystery…featuring two admirable sleuths."—Jean Hager