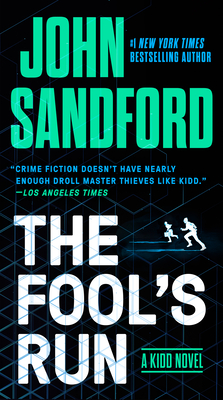 The Fool's Run (Kidd #1)
Paperback

* Individual store prices may vary.
Description
John Sandford, the #1 New York Times bestselling author of the Prey novels gives suspense an ingenious twist as he takes readers into the mind games of two irresistible con artists plotting the perfect sting…

Kidd is a computer whiz, artist, and professional criminal. LuEllen is his lover, and his favorite partner in crime. Their playing field in on the cutting edge of high-tech corporate warfare. This time they've been hired by a defense industry corporation to destroy its business rival through computer sabotage. If Kidd and LuEllen can pull it off, they'll reap millions. It's the sting of a lifetime. One false move and it's a lifetime sentence. As the takedown unfolds, everything goes according to plan. But their string of successes turns into a noose when the ultimate con artists find themselves on the wrong end of the ultimate con…
Praise For The Fool's Run (Kidd #1)…
"Fast-paced action, high-intellect puzzle-solving, dandy characters…If you start guessing outcomes, you are fooled."
—Minneapolis Star & Tribune
"Crime fiction doesn't have nearly enough droll master thieves like Kidd and his stunning partner in righteous crime, LuEllen." —The Los Angeles Times
"John Sandford grabs you by the throat and never lets go."—Robert B. Parker
"Gripping, ultramodern…fast-paced and suspenseful." —Chicago Tribune
"John Sandford has created the kind of trimmed-to-the-bone thriller that hard to put it down." —Chicago Tribune
"John Sandford has no peers." —Associated Press
G.P. Putnam's Sons, 9780425155721, 352pp.
Publication Date: December 1, 1996
About the Author
John Sandford is the pseudonym of Pulitzer Prize–winning journalist John Camp. He is the author of the Prey novels, the Kidd novels, the Virgil Flowers novels, The Night Crew, and Dead Watch. He lives in New Mexico.