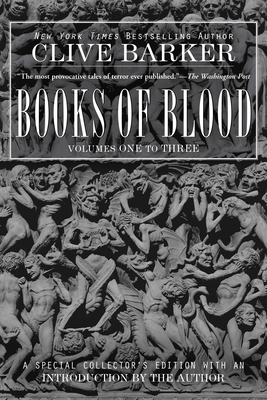 Clive Barker's Books of Blood 1-3 (Paperback)
Berkley, 9780425165584, 528pp.
Publication Date: October 1, 1998
* Individual store prices may vary.
Description
With the 1984 publication of Books of Blood, Clive Barker became an overnight literary sensation. He was hailed by Stephen King as "the future of horror," and won both the British and World Fantasy Awards. Now, with his numerous bestsellers, graphic novels, and hit movies like the Hellraiser films, Clive Barker has become an industry unto himself. But it all started here, with this tour de force collection that rivals the dark masterpieces of Edgar Allan Poe. Read him. And rediscover the true meaning of fear.
About the Author
Born in Liverpool in 1952, Clive Barker has written and produced a number of Grand Guignol plays, including The History of the Devil and Frankenstein in Love. His volumes of short fiction, Books of Blood, earned him immediate praise from horror fans and literary critics alike. He won both the British and World Fantasy Awards, and was nominated for the coveted Booker Prize, Britain's highest literary award. His bestselling novels include The Damnation Game, Imajica, The Thief of Always, The Great and Secret Show, and Everville. He also created the now-classic Hellraiser films, as well as Nightbreed, and Lord of Illusions.
Praise For Clive Barker's Books of Blood 1-3…
"Barker's eye is unblinking; he drags out our terrors from the shadows and forces us to look upon them and despair or laugh with relief."
—
The Washington Post
"Mixing elements of horror, science fiction and surrealist literature, Barker's work reads like a cross between Stephen King and South American novelist Gabriel Garcia Marquez. He creates a world where our biggest fears appear to be our own dreams."
—Boston Herald
"Mr. Barker is much more than a genre writer, and his extravagantly unconventional inventions are ingenious refractions of our common quest to experience and understand the mysterious world around us and the mysteries within ourselves."
—The New York Times Book Review
"Clive Barker assaults our senses and our psyche, seeking not so much to tingle our spine as to snap it altogether."
—Los Angeles Times
"Outstanding ... a powerful and fascinating writer with a brilliant imagination."
—J.G. Ballard
Coverage from NPR