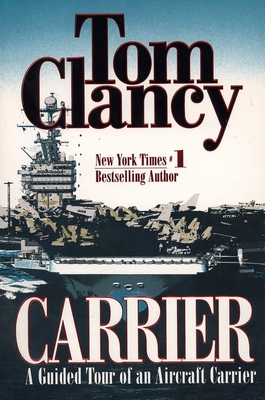 Carrier: A Guided Tour of an Aircraft Carrier (Paperback)
A Guided Tour of an Aircraft Carrier
Berkley Publishing Group, 9780425166826, 348pp.
Publication Date: February 1, 1999
Description
They are floating cities with crews of thousands. They are the linchpins of any military strategy, for they provide what has become the key to every battle fought since World War I: air superiority. The mere presence of a U.S. naval carrier in a region is an automatic display of strength that sends a message no potential enemy can ignore. Now,
Tom Clancy
welcomes you aboard for a detailed look at how these floating behemoths function. With his trademark style and eye for detail, Clancy brings you naval combat strategy like no one else can.Carrier includes:
* Takeoffs and landings: flying into the danger zone
* The aircraft onboard: their range, their power, their weaponry
* The role of the carrier in modern naval warfare
* Exclusive photographs, illustrations and diagrams
Plus: An interview with the U.S. Navy's Chief of Naval Operations, Admiral Jay Johnson

About the Author
A little more than thirty years ago Tom Clancy was a Maryland insurance broker with a passion for naval history. Years before, he had been an English major at Baltimore's Loyola College and had always dreamed of writing a novel. His first effort, The Hunt for Red October, sold briskly as a result of rave reviews, then catapulted onto the New York Times bestseller list after President Reagan pronounced it "the perfect yarn." From that day forward, Clancy established himself as an undisputed master at blending exceptional realism and authenticity, intricate plotting, and razor-sharp suspense. He passed away in October 2013.
Advertisement