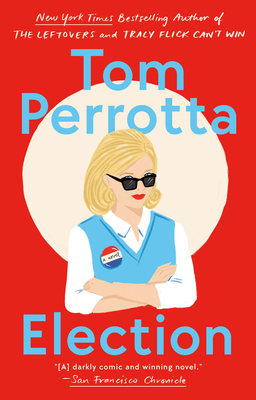 Election
Paperback

* Individual store prices may vary.
Description
From the New York Times bestselling author of The Leftovers comes a darkly hilarious novel about a high school election that brings out the worst in everyone—the basis for the film starring Reese Witherspoon and Matthew Broderick!


Tracy Flick wants to be President of Winwood High. She's one of those ambitious girls who finds time to do it all: edit the yearbook, star in the musical, sleep with her English teacher. But another teacher, staunch idealist Jim McAllister (aka "Mr. M."), thinks the students deserve better. So he persuades Paul Warren—a well-liked, good-hearted jock—to throw in his hat. But that puts Paul's sister, Tammy, in a snit. So she runs, too, on an apathy platform—before starting a real campaign...to get herself kicked out of school.
Tammy's upset because her secret, forbidden love has been lured away...by her own brother. Tracy's upset because losing this election might screw up her college chances. Mr. M.'s upset because ever since he embarked on his own extramarital affair, his life's been falling apart. As for Paul, well, he's not sure
what's
going on.
The whole idea was to educate these suburban New Jersey teenagers in the democratic process and the American way. But with all the sex scandals, smear campaigns, and behind-the-scenes power brokers at Winwood High, it doesn't look as if they need any lessons...
Praise For Election…
"[A] darkly comic and winning novel."—San Francisco Chronicle

"Funny, sad, realistic, irreverent, and very readable."—Library Journal

"Captures the texture of high-school life in a refreshing manner."—Time Out New York

"Exceedingly funny...sharp observation...a delight."—The Clevland Plain Dealer

"A neatly written, nimble-witted novel...a good-natured, John Irvingesque portrait of the contemporary world...seamless storytelling."—The Washington Post

"Perotta is that rare writer equally gifted at drawing people's emotional maps...and creating sidesplitting scenes."—People

"An American Chekhov."—The New York Times Book Review
Berkley, 9780425167281, 208pp.
Publication Date: October 1, 1998
About the Author
Tom Perrotta is the author of The Leftovers, The Abstinence Teacher, Little Children, Election, and Nine Inches, among other works of fiction. Election was made into the acclaimed 1999 movie directed by Alexander Payne and starring Matthew Broderick and Reese Witherspoon. Little Children was released as a movie directed by Todd Field and starring Kate Winslet and Jennifer Connelly in 2006, and for which Perrotta received Golden Globe and Academy Award nominations for best screenplay. He also serves as an executive producer for the HBO® series The Leftovers, based on his novel.