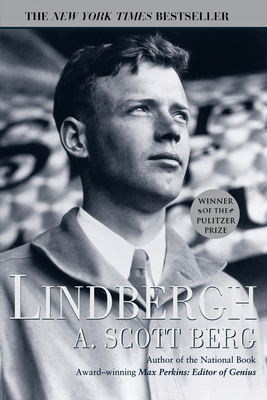 Lindbergh (Paperback)
Berkley, 9780425170410, 688pp.
Publication Date: September 1, 1999
* Individual store prices may vary.
Description
Even after twenty years, A. Scott Berg's Pulitzer Prize-winning biography of Charles Lindberg remains "the definitive account" of one of the 20th century's most extraordinary figures. 

Few American icons provoke more enduring fascination than Charles Lindbergh—renowned for his one-man transatlantic flight in 1927, remembered for the sorrow surrounding the kidnapping and death of his firstborn son in 1932, and reviled by many for his opposition to America's entry into World War II. Lindbergh's is "a dramatic and disturbing American story," says the *Los Angeles Times Book Review, and this biography—the first to be written with unrestricted access to the Lindbergh archives and extensive interviews of his friends, colleagues, and close family members—is "a thorough, level-headed evaluation of the glories, tragedies, and often infuriating complexities of this extraordinary life" (Newsday).
About the Author
A. Scott Berg is the #1 New York Times bestselling author of five biographies: Max Perkins: Editor of Genius, winner of the National Book Award; Goldwyn, for which he received a Guggenheim Fellowship; Lindbergh, winner of the Pulitzer Prize; Kate Remembered, his biographical memoir of Katharine Hepburn; and Wilson, the definitive biography of twenty-eighth president Woodrow Wilson.
Praise For Lindbergh…
Praise for Lindbergh

"The definitive account of a dramatic and disturbing American story...One of the most important biographies of the decade...an extraordinary achievement."—Los Angeles Times Book Review

"A magisterial work...a superb job...With Berg's free access to previously unavailable documentation, this is sure to be the definitive biography of Lindbergh."—Kirkus Reviews (starred review)

"Berg's biography [is] sure to renew interest in this unique American hero."—People Magazine

"In Lindbergh, A. Scott Berg brings us about as close as I suspect we ever will get to the man himself. The first biographer to be granted unfettered access to Lindbergh's private papers, Berg provides enough fresh detail to trace the roots of Lindbergh's personality, its strengths as well as its maddening flaws, all the way back to his turbulent boyhood."—The New York Times Book Review

"A biography that will be one of the publishing events of the year...one of the most extraordinary lives of the 20th century."—Vanity Fair

"Fanatically researched and very moving...stunning in its fairness to a harsh and unknowable Charles  Lindbergh."—Esquire

"A comprehensive and invaluable text."—The Washington Post Book World

"The most outstanding piece of nonfiction that I have read this year...Berg does a spectacular job of establishing why Lindbergh proves such a powerful icon for the 20th century...A substantial piece of history that illuminates an important figure...It's the kind of book that took almost a decade to create. And it's worth it."—USA Today