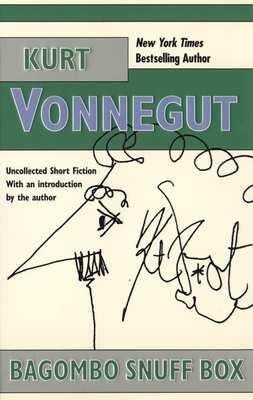 Bagombo Snuff Box: Uncollected Short Fiction (Paperback)
Uncollected Short Fiction
Berkley Publishing Group, 9780425174463, 357pp.
Publication Date: August 1, 2000
Description
Never-before-collected, vintage Vonnegut.
"Vonnegut said that his last book, Timequake (1997), would be his last, but no one as imaginative and in love with language and story can resist the lure of the page, and it's obvious that he had a grand time working on this collection of his vintage stories. Bagombo Snuff Box resurrects Vonnegut's earliest efforts, stories written during the fifties and sixties for such popular venues as The Saturday Evening Post and Collier's. In his engagingly autobiographical introduction, Vonnegut describes his stints as a Chicago journalist and PR man for General Electric in Schenectady, New York; his decision to supplement his income by writing; and his rapid success and evolution into a full-time writer. So, here are his literary roots, a set of stories that reflects their era's eagerness to turn the horrors of war into anecdote and to equate technology with progress. Unabashedly fablelike, they can be either sly or sweet, sentimental or vaudevillian, but all are quietly subversive. . . . Rich in low-key humor and good old-fashioned morality, Vonnegut's stories are both wily and tender." --Booklist
"You trust this voice . . . the pretentious are all brought to earth with his wit . . . These stories . . . speak only of simple truths." --Chicago Sun-Times
About the Author
Kurt Vonnegut, one of the most acclaimed American writers of the past century, died in New York City on April 11, 2007. He was the New York Times bestselling author of fourteen novels, including such literary classics as Slaughterhouse-Five, Cat's Cradle and God Bless You, Mr. Rosewater. Penguin Group (USA) was fortunate to publish several of Mr. Vonnegut's books, including the novels Timequake and Hocus Pocus as well as a collection of short fiction, Bagombo Snuff Box.
Advertisement