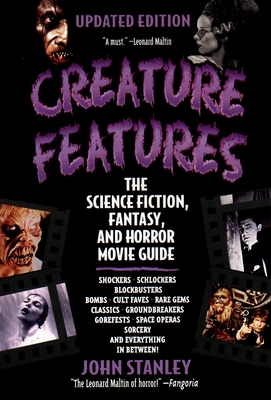 Creature Features (Paperback)
The Science Fiction, Fantasy, and Horror Movie Guide
Berkley, 9780425175170, 608pp.
Publication Date: August 1, 2000
* Individual store prices may vary.
Description
With smash-hit films like
The Blair Witch Project, The Sixth Sense
, and
The Phantom Menace
breaking Hollywood records, it's obvious that sci-fi, fantasy and horror films are back--and bigger than ever before.
Updated to include the most recent movie mega-hits, Creature Features has it all--the shockers, schlockers, blockbusters, bombs, cult faves, rare gems, classics, groundbreakers, gorefests, space operas, sorcery, Euro-splatter, and everything in between. From features, made-for-televsion, and straight-to-video, here are all the films you love and hate; the films you forgot about and never knew existed. Horror and science fiction fans will find films that matter and films that splatter in one critical and humorous guide.
Featuring
* Thousands of capsulized reviews
* A five-star rating system
* Hundreds of obscure and rare titles
* Video distribution informaton (including mail order)
*Cross-references to secondary titles, sequels and tricky retitlings
* And more.
About the Author
John Stanley hosted the popular Creature Features TV series in the San Francisco Bay area for six years. He has covered the science fiction, fantasy, and horror scene for the San Francisco Chronicle for more than thirty years. He has interviewed dozens of superstars and genre stars.