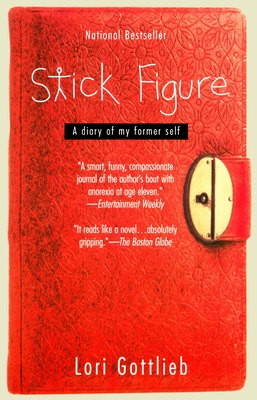 Stick Figure
A Diary of My Former Self
Paperback

* Individual store prices may vary.
Other Editions of This Title:
Paperback (11/17/2009)
Description
A Los Angeles Times and Washington Post bestseller, and winner of several awards including the American Library Association's "Best Books," Borders' "Original New Voice," and an Alternate Selection of the Book-of-the-Month Club and Quality Paperback Book Club
Have you ever focused too much on weight and food?
Do you have trouble understanding the mindset of a friend or family member struggling with an eating disorder?

Stick Figure
takes you on a personal journey through preteen anorexia and into the internal and cultural dynamics that shape it. This memoir is required reading in many middle and high schools across the country and is also used by eating disorder treatment centers for those in recovery.
Praise For Stick Figure: A Diary of My Former Self…
"A smart, funny, compassionate journal of the author's bout with anorexia at age 11." —
Entertainment Weekly
"It reads like a novel…absolutely gripping." —Boston Globe
"Compelling…Hopefully, young Gottlieb will stand as a patron saint for girls vulnerable to eating disorders and the adults who should be caring for them." —Booklist
"Poignant…Gottlieb is dead-on about society's irrational attitudes towards women's bodies." —Washington Post Book World
"Lori Gottlieb's approach is compassionate, and very, very funny. More than just a book about anorexia, Stick Figure is an entertaining and thoughtful coming-of-age story that deals with an almost universal theme—negotiating the minefields of early adolescence and living to tell the tale." —Martha Manning, author of Undercurrents
"What happens when a young girl from Beverly Hills trips on the fallacies of family and friends, then gets saturated by society's worship of the too thin? She almost dies…Gottlieb tells all this with an earnest narration that is funny at times but always tragic. And although Lori steps deeper and deeper into her illness, there is no self-pity. The mood is simply: This is what happened to me." —Seattle Times
"Lori Gottlieb's eleven-year-old self is a singular storyteller of unblinking candor and precocious insight. As rife with wry humor as it is lacking in self-pity, this fast-paced chronicle of late-1970s adolescent anorexia is narrated with a light touch, and yet is chilling and poignant in its straightforward simplicity." —Sarah Saffian, author of Ithaka: A Daughter's Memoir of Being Found
"Stick Figure stands out as a fresh, edgy take—not just on anorexia but on that perilous time in a girl's life when she's no longer a child but not quite an adult." —Entertainment Weekly
"Undeniably effective." —Booklist
"[An] authentic voice." — Francisco Chronicle
"Her descriptions of preteen vulnerability and self-consciousness ring true…her diary offers haunting evidence of what little progress we have made." —Publishers Weekly
"By turns earnest and funny, hopeful and tragic, eleven-year-old Lori is a latter-day Alice: She takes us through the distorted looking glass that's held up to young girls and into the harrowing land of eating disorders. There is no other word for it: You will devour this book—and hopefully, keep right on eating." —Peggy Orenstein, author of School Girls: Young Women, Self-Esteem, and the Confidence Gap
Berkley, 9780425178904, 240pp.
Publication Date: April 1, 2001
About the Author
Lori Gottlieb is the author of the national bestseller Stick Figure: A Diary of My Former Self and a journalist whose work has appeared in The New York Times, The Atlantic, Time, People, Slate, Self, Glamour, Elle, Salon, and the Los Angeles Times. She is also a frequent commentator for NPR's All Things Considered.
or
Not Currently Available for Direct Purchase