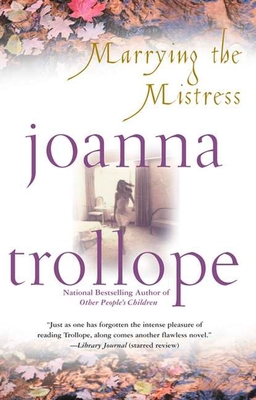 Marrying the Mistress (Paperback)
Berkley, 9780425179642, 352pp.
Publication Date: June 1, 2001
Other Editions of This Title:
MP3 CD (9/9/2014)
Paperback (6/7/2011)
Compact Disc (9/9/2014)
* Individual store prices may vary.
Description
"Just as one has forgotten the intense pleasure of reading Trollope, along comes another flawless novel." —
Library Journal (starred review)
"A pleasure to read." —The Washington Post
"Despite its title, Marrying the Mistress is no mere sexy romp detailing the lurid details of a juicy affair. Instead, Joanna Trollope offers a domestic drama that gives us an insider's view of what happens to a family when the respected head of the household—60-year-old judge Guy Stockdale—announces he is leaving his wife of 40 years to marry his much younger mistress, Merrion. From his teenage grandson who thinks it's cool that Gramps can still snag a hot young babe to his feisty daughter-in-law who sets up a secret meeting to check out the Other Woman, this is a nuanced tale that manages to be both familiar and surprising. What makes the situation complex—and the book beach-bag worthy—is that Merrion is far from the stereotypical villain/slut/husband stealer. She is intelligent, independent, successful and impossible not to like. Reading Marrying the Mistress is like spying on the neighbors that everyone on the street is gossiping about—without the guilt." —Salon.com
"A modern-day Austen." —Library Journal (starred review)
"Masterful storyelling and memorable characters…a wise and gently truthful take on a highly charged subject." —Kirkus Reviews (starred review)
"This novel should easily vault onto the bestseller lists." —Publishers Weekly (starred review)
"[Marrying the Mistress] must be the popular British writer's most daring novel, as well as one of her most interesting…bracing and original…Trollope at her most challenging and thought-provoking." —The Cleveland Plain Dealer
"Entertaining…great beach reading." —USA Today
"A novel rich in accurate, piercing detail of domestic life and populated with strongly developed, realistic characters…absorbing and excellent." —Booklist
"Splendidly nuanced." —Kirkus Reviews (starred review)
"A great beach or vacation read." —The Baltimore Sun
"Trollope again displays her extraordinary gift for representing the intricacies of familial relationships and the vicissitudes of domestic life…None of the themes here—betrayal and anger, the lovers' age difference, the grasping mother, the daughter-in-law's resentment—are terribly unusual, but Trollope's proven ability to present them intelligently, as moral and emotional tangles faced by thinking, interesting people, satisfyingly combines the universally recognizable and the intellectually engaging." —Publishers Weekly (starred review)
"Essential." —Library Journal (starred review)
About the Author
Joanna Trollope has been writing for more than 30 years. Her enormously successful contemporary works of fiction, several of which have been televised, include Other People's Children, Marrying the Mistress, Girl from the South, Brother & Sister, Second Honeymoon, and Friday Nights. She was awarded the OBE in 1996 for services to literature.
or
Not Currently Available for Direct Purchase