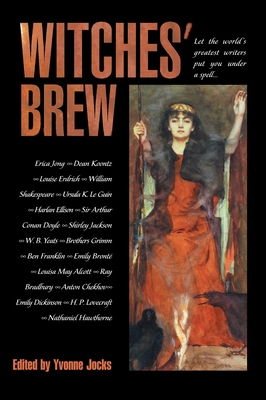 Witches' Brew
Paperback

* Individual store prices may vary.
Description
Throughout history and throughout cultures, witches have always enthralled us. Be they good witches or bad witches, ancient sorcerers or modern-day Wiccans, their aura of magic, nature, and power is irresistible. Here, the greatest authors of all time are gathered together to stir up a little trouble. From Shakespeare's Wyrd Sisters in
Macbeth
to Dean Koontz's doddering old crone in "Snatcher" to Erica Jong's Mother Goddess in "Smoke," these works of prose and poetry capture the witch in all her guises: wicked, empowering, romantic, and pagan.
No longer relegated to fairy tale villains, witches have become potent personifications of feminine power—and have found a place in every genre of writing.  So, leave your preconceived notions at the door and dive headfirst into Witches' Brew, the ultimate collection of witch literature.
Let the world's greatest writers put you under a spell…
Erica Jong • Dean Koontz • Louise Erdrich • William Shakespeare • Ursula K. Le Guin • Harlan Ellison • Sir Arthur Conan Doyle • Shirley Jackson • W.B. Yeats • Brothers Grimm • Ben Franklin • Emily Brontë • Louisa May Alcott • Ray Bradbury • Anton Chekhov • Emily Dickinson • H.P. Lovecraft • Nathaniel Hawthorne • Ambrose Bierce • H.P. Blavatsky • Mary Coleridge • Rosemary Edgehill • P.N. Elrod • Anita Endrezze • Mary Wilkins Freeman • David Gerrold • M.V. Ingram • Mercedes Lackey • Cotton Mather • Charles Perrault • Kathryn Ptacek • Doreen Valiente • Evelyn Vaughn • Lady Wilde
Berkley, 9780425186091, 336pp.
Publication Date: October 1, 2002
About the Author
Yvonne Jocks writes historical romance novels as well as her academic work like editing the reprint anthology, A Witch's Brew. She is a member of the Covenant of Unitarian Universalist Pagans.
or
Not Currently Available for Direct Purchase