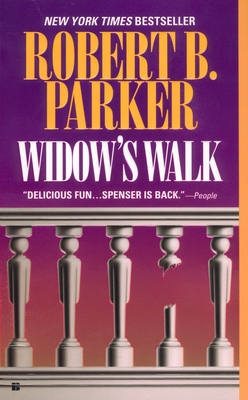 Widow's Walk (Mass Market Paperbound)
G.P. Putnam's Sons, 9780425189047, 352pp.
Publication Date: March 4, 2003
Description
One of Boston's elite has been murdered. The accused is his new wife. She's blonde, beautiful, and young. The jury's going to hate her. With next-to-no alibi, and multi-million reasons to kill her husband, she needs the best defense money can buy. His name is Spenser, and he dgive anything to believe her.
About the Author
Robert B. Parker was the author of more than fifty books. He died in January 2010.
Praise For Widow's Walk…
"Delicious fun…Spenser is back in his element—out-punching and out-quipping adversaries in Beantown. An entertaining supporting cast puts this one on the top shelf…one of the author's wittier outings. Bottom line: A merry Widow."—People
 
"Priceless moments."—The New York Times Book Review
 
"Top-notch stuff."—The Seattle Times
 
"Parker's energies remain as formidable as his hero's."—Boston Globe
 
"Prime Spenser…an enjoyable ride."—The Times Union (Albany, NY.)
 
"Widow's Walk ranks among the best in the Spenser series—just enough of the hard-boiled stuff, a touch of good-natured cynicism, some mature reflection on the nature of life and a well-knotted whodunit. It's a great way to spend the weekend…For those who have yet to have the pleasure of our hero's company, it's a stellar introduction."—Calgary Herald
 
"It's the dialogue that marks Parker as the undisputed master of the hard-boiled universe."—Ottawa Citizen
 
"The writing is as clean as fresh ice, and from the opening sentence, it's clear that readers are in the hands of a vet who knows what he's doing."—Publishers Weekly
 
"ANY book by Robert B. Parker is a treat but there is something extra-special when he gives us a new detective story starring the inimitable Spenser. [Widow's Walk is] classic Parker, with that beautifully pared-down style that wastes no words but still conjures up richly detailed characters and a vibrant sense of place…funny…touching… compassionate." —Sunday Mercury
 
"Spencer is back, as quick with a quip and as free with his fists as ever…So enjoy."—The San Diego Union Tribune

"One of the great series in the history of the American detective story."—The New York Times
"A cat's cradle of conspiracies…fun to read as ever."—Los Angeles Times

Advertisement