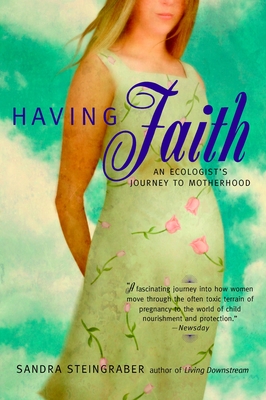 Having Faith (Paperback)
An Ecologist's Journey to Motherhood
Berkley, 9780425189993, 352pp.
Publication Date: May 6, 2003
* Individual store prices may vary.
Description
As an ecologist, Sandra Steingraber spent her professional life observing how living things interact with their environments.  Now, 38 and pregnant, she had become a habitat—for a population of one.
Having Faith is Steingraber's exploration of the intimate ecology of motherhood. Using her scientist's eye to study the biological drama of new life being knit from the molecules of air, food, and water flowing into her body, she looks at the environmental hazards that now threaten pregnant and breastfeeding women, and examines the effects these toxins can have on a child. Having Faith makes the metamorphosis of a few cells into a baby astonishingly vivid, and the dangers to human reproduction urgently real. 
About the Author
Sandra Steingraber, Ph.D., received her doctorate in biology from the University of Michigan and taught for several years at Columbia College, Chicago. Recently, she briefed U.N. delegates in Geneva on breast milk contamination. She is currently on the faculty at Cornell University.
Praise For Having Faith: An Ecologist's Journey to Motherhood…
"A cross between the quirkily thorough detail of Natalie Angier's science writing and the passionate environmental advocacy of Rachel Carson." —
Publishers Weekly
"A fascinating journey into...the often toxic terrain of pregnancy to the world of child nourishment and protection." —Newsday