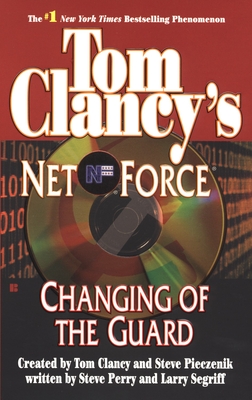 Tom Clancy's Net Force (Mass Market)
Changing of the Guard
Berkley, 9780425193761, 336pp.
Publication Date: December 2, 2003
Other Editions of This Title:
Mass Market (4/1/2001)
Mass Market (5/1/2001)
Mass Market (3/1/2000)
Mass Market (2/1/1999)
Mass Market (2/1/1999)
Mass Market (2/1/1999)
Mass Market Paperback (11/1/2001)
Mass Market Paperback (3/4/2003)
* Individual store prices may vary.
Description
The eighth novel in Tom Clancy's #1 New York Times bestselling Net Force series.

Though the head of a major multinational corporation—and a key player in world affairs—Samuel Walker Cox has a past that few people know about. But that group is about to get bigger. A computer disk has fallen into the hands of the Net Force, outing the powerful American businessman as a former Russian spy. Cox is willing to see the world in ruins to protect his name. Lucky for the United States that Net Force is on the job—and is about to prove that no man is above the law.
About the Author
A little more than thirty years ago Tom Clancy was a Maryland insurance broker with a passion for naval history. Years before, he had been an English major at Baltimore's Loyola College and had always dreamed of writing a novel. His first effort, The Hunt for Red October, sold briskly as a result of rave reviews, then catapulted onto the New York Times bestseller list after President Reagan pronounced it "the perfect yarn." From that day forward, Clancy established himself as an undisputed master at blending exceptional realism and authenticity, intricate plotting, and razor-sharp suspense. He passed away in October 2013.