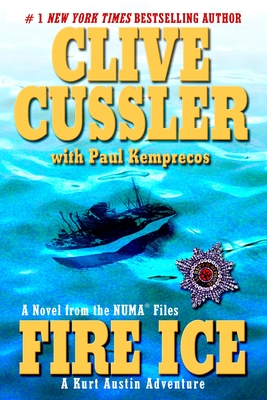 Fire Ice (Paperback)
G.P. Putnam's Sons, 9780425196021, 448pp.
Publication Date: June 1, 2004
Description
Leader of the NUMA Special Assignments team, Kurt Austin must work with a former KGB spy to save the United States from a lunatic with a generations-spanning grudge in this novel in the #1 New York Times-bestselling series.
Kurt Austin is preparing for an interview while aboard a research vessel in the Black Sea. But his television spot suddenly becomes a rescue mission when the waiting film crew is attacked on a nearby island. With little information on the attackers, and no clue to their true agenda, Austin is forced to turn to an unlikely source: his old KGB Cold War adversary Vladimir Petrov. According to Petrov, the island is actually an old submarine base that's been commandeered by clever mobster-turned-billionaire-businessman Mikhail Razov. Razov is certain he descends from the great Romanov family and he's out to reclaim his rightful position as czar of Russia. With a powerful resource called fire ice, discovered by his mining company, Razov may just have the ammunition he needs to take over the modern world. To stop him, Austin will have to work with Petrov. And he ll have to find out fast how much trust he can offer an old nemesis in this thrilling adventure that goes down like a chilled Stolichnaya martini. (Kirkus Reviews)
About the Author
Clive Cussleris the author or coauthor of more than fifty previous books in five bestselling series, including Dirk Pitt(r), NUMA(r) Files, OregonFiles, Isaac Bell, and Fargo. His nonfiction works includeBuilt for Adventure The Classic Automobiles of Clive Cussler and Dirk Pitt, plusThe Sea HuntersandThe Sea Hunters II; these describe the true adventures of the real NUMA, which, led by Cussler, searches for lost ships of historic significance. With his crew of volunteers, Cussler has discovered more than sixty ships, including the long-lost Confederate shipHunley.He lives in Colorado and Arizona. Paul Kemprecoshas coauthored all six previous NUMA(r) Files with Cussler and is a Shamus Award winning author of six underwater detective thrillers. A certified scuba diver and a former newspaper reporter, he lives in Massachusetts."
Advertisement