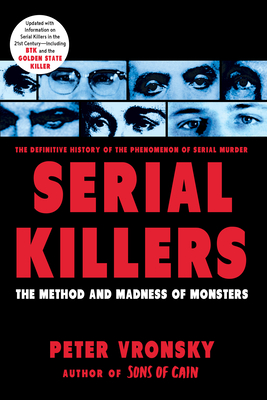 Serial Killers
The Method and Madness of Monsters
Paperback

* Individual store prices may vary.
Other Editions of This Title:
Digital Audiobook (11/21/2016)
MP3 CD (11/22/2016)
Compact Disc (11/22/2016)
Description
A comprehensive examination into the frightening true crime history of serial homicide—including information on America's most prolific serial killers such as:

Jeffrey Dahmer • Ted Bundy • "Co-ed Killer" Ed Kemper • The BTK Killer • "Highway Stalker" Henry Lee Lucas • Monte Ralph Rissell • "Shoe Fetish Slayer" Jerry Brudos • "Night Stalker" Richard Ramirez • "Unabomber" Ted Kaczynski • Ed Gein "The Butcher of Plainfield" • "Killer Clown" John Wayne Gacy • Andrew Cunanan • And more...

In this unique book, Peter Vronsky documents the psychological, investigative, and cultural aspects of serial murder, beginning with its first recorded instance in Ancient Rome through fifteenth-century France on to such notorious contemporary cases as cannibal/necrophile Ed Kemper, the BTK killer, Henry Lee Lucas, Monte Ralph Rissell, Jerry Brudos, Richard Ramirez, "Unabomber" Ted Kaczynski, Ed Gein, John Wayne Gacy, Ted Bundy, Jeffrey Dahmer, and the emergence of what he classifies as the "serial rampage killer" such as Andrew Cunanan, who murdered fashion designer Gianni Versace.

Vronsky not only offers sound theories on what makes a serial killer but also makes concrete suggestions on how to survive an encounter with one—from recognizing verbal warning signs to physical confrontational resistance. Exhaustively researched with transcripts of interviews with killers, and featuring up-to-date information on the apprehension and conviction of the Green River killer and the Beltway Snipers, Vronsky's one-of-a-kind book covers every conceivable aspect of an endlessly riveting true crime phenomenon.

INCLUDES PHOTOGRAPHS
Praise For Serial Killers: The Method and Madness of Monsters…
"This formidably comprehensive, brilliantly researched book must be the most wide-ranging work on serial killers that has been written so far. The fact that it sprang from the author's brief encounters with two serial killers lends it a sense of personal urgency."—Colin Wilson, author of Killers Among Us and Written in Blood.
 
"Serial Killers: The Method and Madness of Monsters is one of the most complete books I have read on serial killers. If you are fascinated by the human mind and by those who are abnormal, this is the book for you."—Roundtable Reviews
Berkley, 9780425196403, 480pp.
Publication Date: October 5, 2004
About the Author
Peter Vronsky is the bestselling true crime author of Serial Killers: The Method and Madness of Monsters, Female Serial Killers: How and Why Women Become Monsters, and Sons of Cain: A History of Serial Killers from the Stone Age to the Present. He is an investigative historian, author, filmmaker and new media designer. He holds a Ph.D. from the University of Toronto in criminal justice history and espionage in international relations.