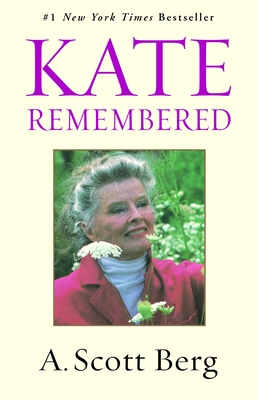 Kate Remembered (Paperback)
Berkley, 9780425199091, 384pp.
Publication Date: September 7, 2004
Other Editions of This Title:
Digital Audiobook (12/31/2002)
Compact Disc (11/1/2003)
MP3 CD (10/1/2003)
* Individual store prices may vary.
Description
For seven decades Katharine Hepburn played a leading role in the popular culture of the twentieth century - reigning as an admired actress, a beloved movie star, and a treasured icon of the modern American woman. She also remained one of the most private of all the public figures of her time.

In 1983 - at the age of seventy-five, her career cresting - the four-time Academy Award winner opened the door to biographer A. Scott Berg - then thirty-three - and began a special friendship, one that endured to the end of her illustrious life.

From the start, Scott Berg felt that Katharine Hepburn intended his role to be not just that of a friend but also of a chronicler, a confidant who might record for posterity her thoughts and feelings. Over the next twenty years, Kate used their many hours together to reveal all that came to mind, often reflecting on the people and episodes of her past, occasionally on the meaning of life.

Here are the stories from those countless intimate conversations, and much more. In addition to recording heretofore untold biographical details of her entire phenomenal career and her famous relationships with such men as Spencer Tracy and Howard Hughes, Kate Remembered also tells the amusing, often emotional story of one of the most touching friendships in her final years. Scott Berg provides his own memories of Katharine Hepburn offstage - quiet dinners in her town house in New York City, winter swims (she swam, he watched) in the Long Island Sound at Fenwick, her home in Connecticut, weekend visits with family members and dear friends...even some unusual appearances by the likes of Michael Jackson and Warren Beatty. Finally, Kate Remembered discusses the legendary actress's moving farewell, during which her mighty personality surrendered at last to her failing body - all the while remaining true to her courageous character.

Kate Remembered is a book about love and friendship, family and career, Hollywood and Broadway - all punctuated by unforgettable lessons from an extraordinary life.
About the Author
A. Scott Berg graduated from Princeton University in 1971. He is the author of the bestselling books Max Perkins: Editor of Genius, which won the National Book Award, Goldwyn: A Biography, for which he received a Guggenheim Fellowship, and Lindbergh, which won the Pulitzer Prize. He lives in Los Angeles.
Praise For Kate Remembered…
"Hepburn sounds off plenty...A worthy look at a candid Kate." —
People
"Engrossing...leave it to Hepburn to make a grand exit." —Newsday
"Sharp, funny, and poignant." —New York Times
"Intimate, thoughtful, and considerate...an intensely personal book." —Salon.com