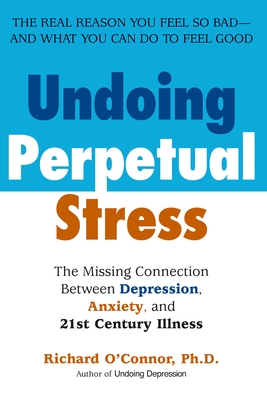 Undoing Perpetual Stress (Paperback)
The Missing Connection Between Depression, Anxiety and 21stCentury Illness
Berkley, 9780425207697, 544pp.
Publication Date: February 7, 2006
* Individual store prices may vary.
Description
The author of Undoing Depression presents an effective guide to modern anxiety, and shows how you can recognize—and rescue yourself from—its effects.

Twenty-first-century life evolves at a breakneck pace—and with it, stress seems to multiply by the day. We work long, harrowing hours. We fret over our families and finances. Our e-mail beeps and our cell phones ring. But our nervous systems were never meant to handle so many stressors.

In this groundbreaking book, psychotherapist Richard O'Connor explains how a wide range of common problems—both emotional and physical—are actually side effects of modern life, and how you can undo their damage. Combining expertise with down-to-earth language, Undoing Perpetual Stress explains how you can:

• Recognize the hidden effects of stress on your brain and body
• Understand your inner sanity in conflict with a crazy world
• Develop self-control over how you think, act and feel when stressed
• Regain a sense of meaning and purpose in your life

You already know how to "do" stress. With the help of this book, you can undo it, too.
About the Author
A graduate of Trinity College in Hartford, Richard O'Connor, Ph.D., received his M.S.W. and Ph.D. from the University of Chicago, followed by postgraduate work at the Institute for Psychoanalysis and the Family Institute. He is a practicing psychotherapist with offices in Connecticut and New York.