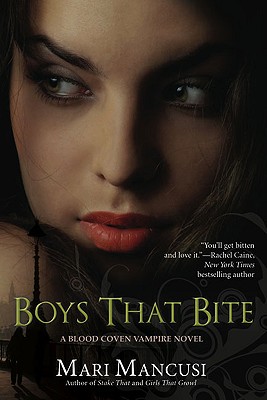 Boys That Bite (Paperback)
Berkley Publishing Group, 9780425209424, 262pp.
Publication Date: April 4, 2006
* Individual store prices may vary.
or
Not Currently Available for Direct Purchase
Description
Okay, so technically she can t because I m immortal. Well, not yet. See, due to the worst case of mistaken identity with my dark-side-loving twin sister at a Goth club called Club Fang, Magnus, a vampire hottie, went for my innocent neck instead of hers. Now if I don t reverse it in time, Magnus will be my blood mate forever and I m doomed to be a blood-gulping, pasty, daylight-hating vampire. Believe me, it seriously bites.
After the unfortunate slaying of the vampire leader, it's up to me, my sister, and Magnus to find the one thing that can solve my problem the Holy Grail. No joke. I seriously hope I can get out of this in time, because somehow, I scored the hottest prom date in my school, the mouth-watering Jake Wilder. And I do not want to be a vampire for the prom let alone the rest of eternity...
About the Author
Mari Mancusi used to wish she could become a vampire back in high school. But she ended up in another blood sucking profession journalism instead. Today she works as a television news producer for the NBC station in Boston and has won two Emmys for her work. As if writing and TV producing weren't enough to keep her busy, Mari also enjoys snowboarding, clubbing, shopping, 80s music, and her favorite guilty pleasure video games. She lives in the Boston area with her husband and two dogs."
Advertisement