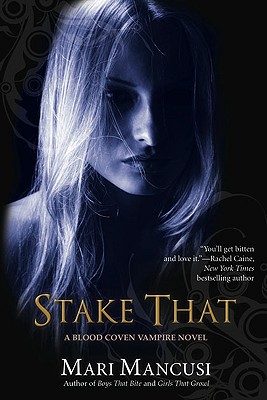 Stake That! (Paperback)
Berkley Publishing Group, 9780425212103, 280pp.
Publication Date: December 5, 2006
* Individual store prices may vary.
or
Not Currently Available for Direct Purchase
Description
A fresh voice and fresh blood - it adds up to one very sassy vampire series...
Sisters. They'll swipe your clothes, your boyfriends, your destiny. But it wasn't exactly Rayne's twin Sunny's fault. Magnus, a vamp hottie and coven leader, mistook Sunny for Rayne last month and bit her instead. Now they're doing the inter-species dating thing.
Turns out that for every generation, there's a Vampire Slayer - and this time around, it just happens to be Rayne MacDonald. Her first mission: infiltrate a seedy vamp bar downtown and expose its vampire owner for purposely spreading a blood disease he created himself - a task almost harder than passing trig.
After going it alone once, Rayne realizes she needs help. So Magnus sends his sexy Goth buddy Jareth to go undercover with her. And, frankly, Rayne wouldn't mind going under the covers with him. Maybe fate doesn't bite after all...
About the Author
Mari Mancusi used to wish she could become a vampire back in high school. But she ended up in another blood sucking profession journalism instead. Today she works as a television news producer for the NBC station in Boston and has won two Emmys for her work. As if writing and TV producing weren't enough to keep her busy, Mari also enjoys snowboarding, clubbing, shopping, 80s music, and her favorite guilty pleasure video games. She lives in the Boston area with her husband and two dogs."
Advertisement