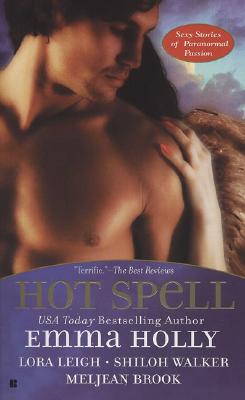 Hot Spell (Mass Market)
Berkley, 9780425212882, 352pp.
Publication Date: November 7, 2006
Other Editions of This Title:
Paperback (11/1/2005)
* Individual store prices may vary.
Description
Venture into a world beyond the ordinary, where the dark passions and voracious appetites of vampires, werewolves, demons, and a few undaunted mortals combine to unleash a potent spell.
About the Author
Emma Holly lives in Minnesota where the winters are long and people will use any excuse to warm up. According to Emma, humanity's best inventions are hot showers, the printing press, coffee, chocolate, and bicycle shorts for men. She can be reached at emmah@wavetech.net or P.O. Box 2591, Minneapolis, MN 55402-0591.
Lora Leigh is known for her deliciously intense and satisfying erotic romance. Her characters come to her in her dreams, inspiring her with the possibilities of What If... Most days, Lora can be found in front of her computer weaving daydreams while sipping the ambrosia of the gods, also known as coffee. When not writing, thinking about writing, or plotting what to write, Lora, a Kentucky native, enjoys gardening, fishing, and hiking with her husband and children.
Shiloh Walker is the national bestselling author of many novels, including Hunting the Hunter, Hunter's Salvation, and Hunters: Heart and Soul.
Meljean was raised in the middle of the woods, and hid under her blankets at night with fairy tales, comic books, and romances. She left the forest and went on a misguided tour through the world of accounting, banking, and a (very) brief teaching career before focusing on her first loves, reading and writing--and she realized that monsters, superheroes, and happily-ever-afters are easily found between the covers, as well as under them, so she set out to make her own.Meljean lives in Portland, Oregon with her husband and daughter.