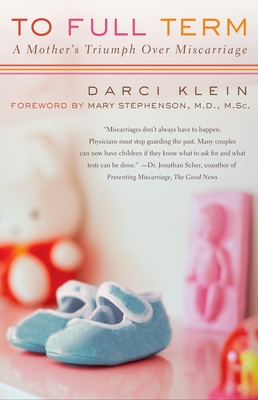 To Full Term: A Mother's Triumph Over Miscarriage (Paperback)
A Mother's Triumph Over Miscarriage
Berkley Trade, 9780425215876, 288pp.
Publication Date: June 5, 2007
* Individual store prices may vary.
or
Not Currently Available for Direct Purchase
Description
A powerful and empowering memoir of a woman's fight to bring her fifth pregnancy to full term after years of heartbreak and horrific loss.
To Full Term is the gripping memoir of Darci Klein's pregnancy with her son Sam, and the story of one woman's struggle to give her baby a fighting chance. From refusing to accept outmoded obstetric guidelines to going head-to-head with stubborn medical professionals, to overcoming her own paralyzing fears, Darci faced each challenge to achieve her goal. What she learned on her journey about defending her own reproductive health and coping with the emotional strain of high-risk pregnancy will empower any woman who wants to do all she can to have a full-term, healthy baby.
Praise For To Full Term: A Mother's Triumph Over Miscarriage…
Pregnant for the fifth time, Klein knew she would have to marshal all available resources to ensure a healthy delivery. Unfortunately for this high-risk mom, the news couldn't have come at a worse time. She, husband Jon, and five-year-old daughter Maddie had just moved across the country and knew little about their new city. They had no doctor, few friends, and no family close by. Three previous pregnancies having ended in miscarriage, Klein felt that she and she alone would have to be the assertive, outspoken advocate of her unborn child. She wasted no time. She notes that nearly half of the estimated two million miscarriages per year are the results of treatable conditions and also that high-risk pregnant women must demand certain tests and interventions. She did demand them, and this journal of her pregnancy plus the authority of personal experience behind heavy-duty advice on what expectant mothers, especially those who have had one or more miscarriages, must do to ensure a full-term pregnancy. -- Booklist
Advertisement