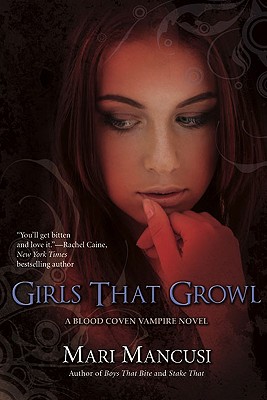 Girls That Growl (Paperback)
Berkley Publishing Group, 9780425217160, 249pp.
Publication Date: October 2, 2007
* Individual store prices may vary.
or
Not Currently Available for Direct Purchase
Description
Third in Mancusi's hip, sassy vampire series, featuring the heroine of Stake That
She's a vampire. She's also a vampire slayer. (It's a long story.) And now Rayne McDonald, Goth girl, has to carry out her most deviant mission yet: trying out for the cheerleading squad.
Rayne already has enough on her plate: her twin keeps whining about whether or not to go all the way; her mom's boyfriend is moving in; and her man, Jareth, who's now allowed out in the sun, has turned from a dark, brooding hottie vamp into a surfer dude.
But this vampire slayer is still on the clock, and she has a new assignment. A member of the football team has disappeared-and her bosses at Slayer Inc. think the cheerleaders had something to do with it. Now they want her to infiltrate the squad and get the dirt. But first, she'll need an extreme prep makeover. If only they'd let her wear fishnets under that revolting uniform.
About the Author
Mari Mancusi used to wish she could become a vampire back in high school. But she ended up in another blood sucking profession journalism instead. Today she works as a television news producer for the NBC station in Boston and has won two Emmys for her work. As if writing and TV producing weren't enough to keep her busy, Mari also enjoys snowboarding, clubbing, shopping, 80s music, and her favorite guilty pleasure video games. She lives in the Boston area with her husband and two dogs."
Advertisement