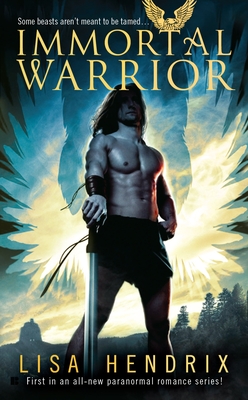 Immortal Warrior (Mass Market Paperbound)
Berkley Books, 9780425224540, 342pp.
Publication Date: November 1, 2008
Description
He came to England in search of treasure. Two hundred years later, he's found her...
Ivar Graycloak is a brave warrior, a man known for his strength and integrity. He is also a man with a terrible secret. Long ago he was part of a Viking crew cursed by an evil sorceress to live for eternity as were-creatures. An eagle by day and a man by night, Ivar has lived a solitary existence for over two centuries. Then the king orders him to marry.
Lady Alaida is everything a man could want in a bride?intelligent, spirited, and beautiful--and their wedding night is a balm to Ivar's lonely spirit. Then a seer brings him word of a dark vision, one that makes Ivar vow to stay away from his lovely wife forever. But now that Ivar has sampled Alaida's passion, her humor and warmth, he is enthralled. His traitorous body?his very heart?longs for that which he can never possess.
Lady Alaida may surprise him yet, though, for she has a power of her own?a power that will either destroy everything they hold dear or ultimately set them free?
About the Author
Lisa Hendrix lives in southern Oregon with her computer-hero husband, two active teenagers, and assorted small furry and finned creatures. She loves to hear from readers, so please feel free to email her at lisa@lisahendrix.com (please include one of her book titles in the subject line to avoid spam filters). You can also visit her website to find her blog, contests, and an ever-changing collection of surprises, freebies, and miscellania, including special info and programs for Readers' Groups.
Advertisement