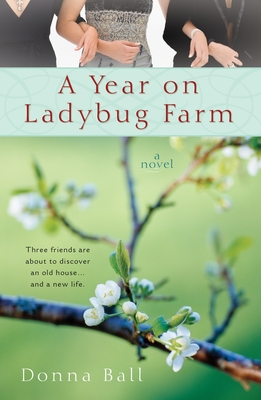 A Year on Ladybug Farm (A Ladybug Farm Novel)
Paperback

* Individual store prices may vary.
Description
Their husbands were gone, their families were grown, and the future stretched out before them like an unfulfilled promise...

Tired of always dreaming and never doing, Cici, Lindsay, and Bridget make a life-altering decision. Uprooting themselves from their comfortable lives in the suburbs, the three friends buy a run-down mansion, nestled in the picturesque Shenandoah Valley. They christen their new home "Ladybug Farm," hoping that the name will bring them luck.

As the friends take on a home improvement challenge of epic proportions, they encounter disaster after disaster, from renegade sheep and garden thieves to a seemingly ghostly inhabitant. Over the course of a year, overwhelming obstacles make the three women question their decision, but they ultimately learn that sometimes the best things can happen when everything goes wrong...
Berkley, 9780425225875, 384pp.
Publication Date: March 3, 2009
About the Author
Donna Ball published her first book in 1982. Since that time she has written over eighty works of commercial fiction under pseudonyms that include Rebecca Flanders, Donna Carlisle, Leigh Bristol, Taylor Brady, and Donna Boyd. She is known for her work in women's fiction and suspense, as well as supernatural fantasy and adventure. Her novels have been translated into well over a dozen languages and have been published in virtually every country in the world.
Bridget and Cici's children believe they are being hasty in uprooting their comfortable suburban lifestyles to renovate a ramshackle mansion in the country. Do you agree with them? What are some of the reasons the women want to do it?
Throughout the first half of the book, Cici, Bridget, and Lindsay keep finding helpful and unexpected treasures that appear in the house with no explanation, like the jam labels and a landscaping map. How do their discoveries mirror how they are living their lives?
By "adopting" all the strays—the sheep, the dog, the deer, even Noah—are the women, especially Bridget, trying to recreate a family or build a new one? What compels them to continue to open their home?
Is it fitting that the women toast "every day is a special occasion" while using Bridget's mother's Baccarat glasses on their first night at Ladybug Farm? How does this foreshadow things to come?
Since Ladybug Farm has endured for more than a century of history, a ghost is almost to be expected. Why do you think Bridget, Cici, and Lindsay aren't afraid when things start appearing or disappearing? Why do they claim that the "house is welcoming us home"?
Once Bridget, Cici, and Lindsay move to Ladybug Farm, they make good progress on renovations, but as summer begins, a slew of expensive modernizing is required to keep the farm running. Why don't they cut their losses once they realize they might be in over their heads? What do you think keeps them at Ladybug Farm?
At one point, Cici asks "Would you go back to being twenty if you could?" and Bridget and Lindsay both reply they would not. Discuss how their younger selves were less appealing to them, and why they prefer where and who they are now.
It takes Lindsay quite a while to finally start to convert the barn into her art studio, even though she'd always dreamed of being a "working artist" and that was part of the reason for buying Ladybug Farm. What is that catalyst that moves her to action and why?
At first, Bridget, Cici, and Lindsay accept Ida Mae wholeheartedly, but they soon feel like strangers in their own house. Do you think it's because Ida Mae has a history with the house and the Blackwells, or is there something else? What finally forces Bridget to confront Ida Mae about her place with the three of them at Ladybug Farm?
Because Ladybug Farm has become such a money pit, Bridget, Cici, and Lindsay give each other the chance to opt-out when their agreement ceases on January 1. Do you agree with the decisions that they each come to? Why do you think they come to these decisions?
Why do you think that Lindsay turns down the job opportunity of a lifetime from Shep's proposal, but doesn't hesitate to take Noah under her wing?
Why does everything at Ladybug Farm finally come together when they decide to throw "the best party ever" at Christmas? Why does this party hold such significance for them? What was Ball's reasoning for starting and finishing the novel with the two holiday parties?
Change is a theme throughout the novel. What are some of the major changes, good and bad, that happen over the course of the year, and make Bridget, Cici, and Lindsay finally feel like a real family? Why does it take them so long to realize that their lives have changed along with the house?