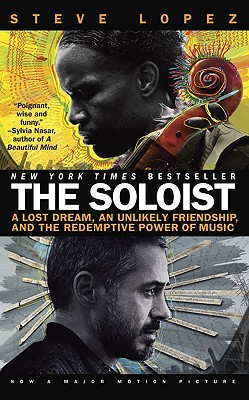 The Soloist (Paperback)
A Lost Dream, an Unlikely Friendship, and the Redemptive Power of Music
Berkley Publishing Group, 9780425226001, 289pp.
Publication Date: October 1, 2008
* Individual store prices may vary.
Description

Now a major motion picture-"An intimate portrait of mental illness, of atrocious social neglect, and the struggle to resurrect a fallen prodigy." (Mark Bowden, author of Black Hawk Down) This is the true story of journalist Steve Lopez's discovery of Nathaniel Ayers, a former classical bass student at Julliard, playing his heart out on a two-string violin on Los Angeles' Skid Row. Deeply affected by the beauty of Ayers's music, Lopez took it upon himself to change the prodigy's life-only to find that their relationship has had a profound change on his own life.
About the Author
Steve Lopez is the author of several books, including The Sunday Macaroni Club and The Soloist. In 2009, The Soloist was made into a movie starring Robert Downey Jr. and Jamie Foxx. Lopez is a columnist with the Los Angeles Times and lives in California.
Praise For The Soloist: A Lost Dream, an Unlikely Friendship, and the Redemptive Power of Music…
"Lopez is a terrific reporter. The Soloist is poignant, wise, and funny."
-Sylvia Nasar, author of A Beautiful Mind

"A heartbreaking, yet ultimately hopeful, read."
-Essence

"An utterly compelling tale."
-Pete Earley, author of Crazy: A Father's Search Through America's Mental Health Madness

"With self-effacing humor, fast-paced yet elegant prose, and unsparing honesty, Lopez tells an inspiring story of heartbreak and hope."
-Publishers Weekly (starred review)

"Compelling and gruffly tender...Lopez deserves congratulations for being the one person who did not avert his eyes and walk past the grubby man with the violin."
-Edward Humes, Pulitzer Prize-winning journalist writing for the Los Angeles Times
When they first meet, Steve looks at Nathaniel as a compelling story for his newspaper, one that has the potential to bring attention to the inhabitants of Los Angeles's Skid Row. What do you think compels him to continue to take on responsibility for Nathaniel's wellbeing following the initial article?
Although Steve didn't enter into his relationship with Nathaniel looking for either a friend or a musical teacher, he winds up with both. Discuss how their relationship progressed from writer-subject to the friendship the two men now enjoy. Is there a turning point in their relationship that you can identify? Have you experienced something similar in your own life?
Classical music is as much a 'character' throughout the book as any of the people. For Nathaniel, the music he plays at times can help to keep his illness at bay. Do you believe that these creative kinds of therapy can ever be a replacement for anti-psychotic drugs? How does Nathaniel's love of music eventually begin to influence Steve?
From their first meeting, Steve and Nathaniel both have an impact on each others' lives that is almost palpable and touches the lives of the people around them. Discuss the ways in which their relationship becomes not only a catalyst for change in their lives but also the lives of others.
Upon visiting Disney Hall for the first time, Nathaniel comments "It's like a dream. I don't know if it's a dream or purgatory (p. 114)". Steve ruminates upon this comment for a moment, finally accepting it as is. Discuss what you think Nathaniel means by this. Do you think there's any deeper meaning to it, or do you agree with Steve's assessment?
One of Steve's goals in the book is to shed light on the homeless situation on Skid Row and the mental health problems that most of the people there suffer, going into some depth regarding different forms of therapy and medication. How do you think families should handle a mentally ill relative? Do you think it is okay to force treatment on a person? Are there any instances that could change your mind?
Readers begin to donate instruments and money almost immediately following Steve's first article. What do you think compels people to help a stranger? Do you believe that people would have been as eager to help Nathaniel had Steve not written about him and his plight? Why or why not? What do you think this says about human nature in general?
Nathaniel attended Julliard during the 1960s, when its students were predominately white. How much do you think the pressures of being one of the only African-American students at Julliard contributed to Nathaniel's breakdown?
After Steve's articles are published, the mayor of Los Angeles visits Skid Row with him to see it firsthand. Discuss whether or not you think he'd have made this visit without Nathaniel's story as a catalyst. Would a series of articles that simply focused on the homeless in Los Angeles as a group been as effective?
On page 139, Nathaniel states "I can't survive if I can't hear the orchestra the way I like to hear it." Do you agree with Steve's assessment that, in a variety of ways,Nathaniel is freer as a man than most 'regular' people? Do you think it's possible for people to live unfettered by society without living outside of its confines?
or
Not Currently Available for Direct Purchase