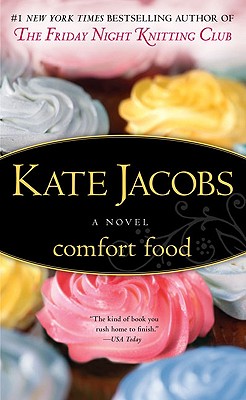 Comfort Food (Paperback)
G.P. Putnam's Sons, 9780425226209, 384pp.
Publication Date: April 7, 2009
* Individual store prices may vary.
Description
Now in paperback from the #1 New York Times bestselling author of The Friday Night Knitting Club...

Shortly before turning 50, TV cooking show personality Augusta "Gus" Simpson discovers that the network wants to boost her ratings by teaming her with a beautiful, young new co-host. But Gus isn't going without a fight-whether it's off-set with her two demanding daughters, on-camera with the ambitious new diva herself, or after-hours with Oliver, the new culinary producer who's raising Gus's temperature beyond the comfort zone. Now, in pursuit of higher ratings and culinary delights, Gus might be able to rejuvenate more than just her career.
About the Author
Kate Jacobs is the author of the #1 New York Times bestseller The Friday Night Knitting Club, Knit Two, Knit the Season, and Comfort Food. A former magazine writer and editor, she lives in Los Angeles with her husband.
Praise For Comfort Food…
"Fresh, tasty...It goes down mighty easily."
-USA Today

"Foodies will enjoy peeking behind the scenes of cooking shows."
-Rocky Mountain News

"A warm and irresistible story."
-Library Journal
When we first meet Gus, she's on the cusp of her fiftieth birthday. Suddenly, the woman known for her lavish celebrations "woke up one morning and realized she hadn't done a thing to plan. She, who never missed a chance to have a party. And that's when she realized she didn't want to do anything about celebrating, either." Is Gus in an emotional rut simply because she's hit a milestone birthday? What else in her life might not be worth celebrating? Which of the other characters appear to be in the same rut as the novel begins?
Gus's two daughters, Sabrina and Aimee, seem to be complete opposites, and yet both seem to be at odds with Gus. Is one daughter more like Gus than the other, or do they represent different facets of their mother's personality? Does this change over the course of the novel? By the end of the story, do you think Gus has incorporated lessons from her daughters into her own life?
We meet several characters who are grappling with their sense of purpose and identity: Priya, the underappreciated housewife; Hannah, with her candy habit and a secret past; and Carmen, the beauty queen who just wants to be respected. In what way do the women around Gus prompt her to examine or change her own life? Who do you think is most helpful in this way?
Carmen Vega's defining feature is her beauty—her viewers "loved to talk about how she looked as much as what she cooked." Does Carmen seem conflicted about using her beauty to get what she wants? How is she typical—or not typical—of women who get ahead by using their looks as well as their brains? Did your opinion of her change by the end of the book?
When we first meet Oliver, we learn that over the course of his lucrative Wall Street career: "ambitious Oliver morphed into an older, far less interesting man. Only he was the only one who didn't know it." Does this also describe the very successful Gus Simpson? And if so, what do you make of Oliver's attraction to her?
As the characters begin to pair off, were there any couples you found surprising? Who is your favorite new couple? Would you have had things turn out differently for any of them?
One of the big mysteries of this story is why Hannah lives such a secluded life. Once you discovered the root of her angst, did you sympathize with her, or think she was overreacting? Why do you think Hannah latched onto her friendship with Gus when she shunned everyone else's company? And how does Hannah's journey out of the house and toward a fuller life mirror Gus's own journey in the course of this novel?
We only hear about Christopher, Gus's late husband, a few times, but it's clear that his death was the pivotal event in the lives of Gus and her daughters. Would Gus have achieved the same level of success had Christopher lived? What kind of life would she and her daughters have had if Gus had stayed at home and never become a CookingChannel celebrity?
At the end of the novel, Gus "decided that it wasn't necessary to explain why she was doing what she was doing, or to rationalize her feelings. She could just let it be." Is this a total change from the Gus we first met? Why do you think she feels so serene? Is it because of her romance with Oliver, or having cleared the air with her daughters, or perhaps something else?
Not all of the characters cook, but they're each affected by food or cooking in some way. In what way does food serve to connect or reassure them? Are there times when food seems like a divisive or negative element in relationships? Have you had these food-related experiences with your own friends and loved ones?
In your opinion, is there a "lesson" to Comfort Food ? What, if anything, do you think Kate Jacobs most wants you to take away from this story? And what is your own favorite "comfort food"?