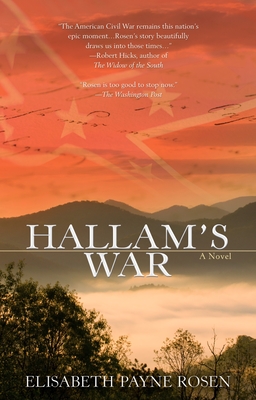 Hallam's War
Paperback

* Individual store prices may vary.
Other Editions of This Title:
Hardcover (9/2/2011)
Description
An acclaimed, sweeping historical novel set during the Civil War, with one steadfast couple at its core.

It is 1859, and Hugh and Serena Hallam have left Charleston society behind to build a new life for themselves and their three children in the near-wilderness of West Tennessee. War may loom on the horizon, but life at their farm, Palmyra, is good, both for their family and-so they convince themselves- their slaves. Young and idealistic, torn between their ambivalence toward slavery and their love of the land, they keep hope that goodwill might yet prevail against the growing hostility dividing the two Americas. But soon, events will move the Hallams' entire world toward destruction, sweeping Hugh into battle while stranding Serena at a besieged Palmyra. Their values will be tested on the battlefield and at home and in the end only their passionate and enduring love for one another will sustain them as they face the war that transforms a nation.
Praise For Hallam's War…
"[Rosen] draws plantation life in rich, colorful detail...engaging characters...Rosen is too good to stop now."
-Washington Post

"One of the more memorable characters of recent historical fiction...[a] bravura performance."
-Mobile Press-Register

"A big, sprawling Civil War epic, Rosen's first novel contains enough romance and history to draw Miss Scarlett's fans like flies to honey...a winner."
-Library Journal
Berkley, 9780425228463, 512pp.
Publication Date: August 4, 2009
When John Varick arrives at Palmyra to begin the research for his story, he's confronted with a reality that's very different from his preconceptions. "Looking back honestly at his reactions since the day he first arrived, he knew he'd have to make a decision soon: either pack up and move on while his ability to feel indignation was still fresh, or else spend much longer here than he'd planned, with the intention of getting past these easy first impressions to some deeper, more difficult truth on the other side." Discuss how Hugh Hallam's unusual methods served to initially disarm John.
Do you think that John and Hugh's friendship would have been able to stand the test of the war? Discuss how they initially handle the differences in their beliefs.
At the beginning of the book, Hugh and French appear to enjoy a very unusual relationship. Do you feel that, because Hugh allows French to read and pays him for his service, this somehow makes him a better man, or do you find it hypocritical? When Hugh requested that French remain at Palmyra to protect Serena and his children while he's at war, did you believe that French would remain? Why or why not?
Do you believe that Mary Ann's situation at Cedar Ridge, and the tragedy that follows, somehow serve as a catalyst for French's eventual decision to leave Palmyra despite his promise to Hugh?
Serena is stunned by the tragic death of Able, and begs Markie "Help me understand." (p. 243). Discuss Serena's reaction to the circumstances surrounding Mary Ann. Do you think that her naivety was genuine, or that she somehow forced herself not to see the reality of the slaves living on her neighbors' plantations?
Hugh neither completely agrees with the separatist movement nor with slavery. However, he still decides to go to war for the South. Discuss what you think are his reasons for going were. Do you find him noble or foolish?
When Tom returns home briefly during the war, his reunion with Kitty is strained on both sides. How does Tom and Kitty's relationship when he briefly returns from the war serve as a microcosm for the development of the relationship between the Hallams and the McQuirters? Do you think that it also serves as a microcosm for the relationship between Americans from the North and Americans from the South?
Before leaving for war, Lewis signs an agreement with Ross McQuirter for Palmyra cotton despite what he knows to be his father's wishes on the matter. Do you think he had a choice in this matter? Would you have acted differently? Did you agree with his decision to go off to war?
Discuss Serena's development after she, Kitty, and Sam leave the plantation. In particular, how does Serena's friendship with Mary Chestnut, whom she first meets on pages 382-383, help her grow? Though Serena has a large family and a rich inner life, has there been a void in her life that Mary fills? How was Serena's relationship with Azalie McQuirter, in the first portion of the novel, similar to and different from her relationship with Mary? Do you believe friendships are more critical to Serena than to Hugh?
French leaves Hugh a letter within the materials he smuggled in to help Hugh escape the Yankee prison—a letter that finally forces Hugh to answer the question of whether a black man is property or a man. Do you think he managed to come to terms with himself and his hand in slavery as a result of this unexpected exchange?
At the end of the book, why do you think Serena returns to Palmyra despite the network of friends and support she developed in Virginia? In the final scene Markie sits with her at the fire, next to her, as an equal. Does this scene make you think that the two women can progress from a mistress/slave relationship to a friendship? How do you picture the future unrolling for each of the Hallams and their soon-to-be-former slaves?
or
Not Currently Available for Direct Purchase