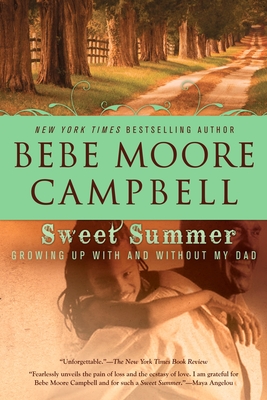 Sweet Summer (Paperback)
Growing Up With and Without My Dad
Berkley, 9780425229279, 272pp.
Publication Date: January 6, 2009
* Individual store prices may vary.
Description
"Potent . . . Unforgettable."
--Bharati Mukherjee
The New York Times Book Review

"A REMARKABLE ACHIEVEMENT . . . . While Sweet Summer is infused with experiences unique to African-American culture, it speaks to the universals of human experience."
--The Philadelphia Inquirer
Written with the narrative force of fiction and the lyrical motion of poetry, SWEET SUMMER is Bebe Moore Campbell's elegy to her extraordinary father. Though she lived with her devoted mother and grandmother in the North most of the year, Campbell spent the summers with her father in the South--a man of gargantuan appetites and boundless exuberance. To his daughter, he was a magical presence.
A bittersweet evocation of a divided childhood with its family secrets, surprising discoveries, loneliness, and love, SWEET SUMMER also recalls living on the cusp of the social revolution of the 1960s. Most of all, it is an achingly honest and beautiful reminder of the universal challenge of growing up and facing one's parents as an adult.
"Touching. . . With this candid account and loving tribute to a special man, Campbell breaks through all the stereotypes about black family life."
--New York Daily News
About the Author
Bebe Moore Campbell was a bestselling author and a journalist. Her nonfiction work has appeared in
The New York Times, The Washington Post, Los Angeles Times, Ms., Essence, Black Enterprise, Ebony, Working Mother, USA Weekend,
and
Adweek,
among other publications. She was a regular contributor to National Public Radio.
Bebe Moore Campbell was the author of such national, critically acclaimed bestsellers as Brothers and Sisters, Singing in the Comeback Choir, Your Blues Ain't Like Mine, and What You Owe Me as well as the award-winning children's book, Sometimes My Mommy Gets Angry and the recently published Stompin' at the Savoy.
Campbell was born and grew up in Philadelphia and graduated from the University of Pittsburgh, where she earned a bachelor of science degree in elementary education. She taught elementary and middle school for five years. She is survived by her husband, Ellis Gordon, Jr., her daughter, the actress Maia Campbell, and a son, Ellis Gordon III.