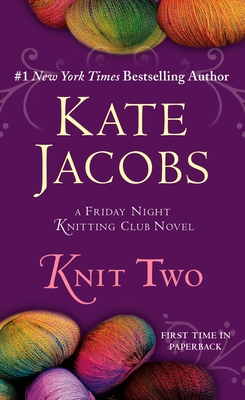 Knit Two (Friday Night Knitting Club Series)
Paperback

* Individual store prices may vary.
Other Editions of This Title:
Digital Audiobook (11/24/2008)
Mass Market (7/2/2013)
Hardcover (11/25/2008)
MP3 CD (11/25/2008)
Compact Disc (2/1/2012)
Compact Disc (11/1/2008)
Compact Disc (11/25/2008)
Hardcover, Large Print, Large Print (1/1/2009)
Audio Cassette (11/1/2008)
Description
Following the beloved #1 New York Times bestseller The Friday Night Knitting Club is this charming story of sisterhood.

At the Manhattan knitting store founded by Georgia Walker, the members of the Friday Night Knitting Club—including Georgia's college-age daughter, Dakota—rely on each other for help, even as they struggle with new challenges: for Catherine, finding love after divorce; for Darwin, the hope for a family; for Lucie, being both a single mom and a caregiver for her elderly mother; and for seventy-something Anita, a proposal of marriage from her sweetheart, Marty, that provokes the objections of her grown children.

As the club's projects—an afghan, baby booties, a wedding coat—are pieced together, so is their understanding of the patterns underlying the stresses and joys of being a mother, wife, daughter, and friend. Because it isn't the difficulty of the garment that makes you a great knitter: it's the care and attention you bring to the craft, as well as how you adapt to surprises...
Praise For Knit Two (Friday Night Knitting Club Series)…
Praise for Knit Two, the second book in the bestselling Friday Night Knitting Club series

"As comforting, enveloping and warm as a well-crafted afghan."—Publishers Weekly

"Fans [will] eagerly snuggle in to see how the friends piece together their knitting projects while finding solace in one another's company."—People

"Fans of Debbie Macomber's Blossom Street series will find much to enjoy here."—Library Journal
G.P. Putnam's Sons, 9780425229927, 336pp.
Publication Date: November 3, 2009
About the Author
Kate Jacobs is the author of The Friday Night Knitting Club, Knit Two, Knit the Season, and Comfort Food.
"The desire to keep everything as it had once been—to freeze time—remained very strong among the group of friends." In what ways did the ladies of the Friday Night Knitting Club manage to keep things as they were? Have the changes made after Georgia's death been a positive or a negative for the members of the club?
"Having children had never been a question when Anita was young; it was simply the expected order of things. Marriage meant babies and babies meant marriage. Still, it was nice that things were different [now]. Could be different. Anita believed in having options. On the other hand, sometimes it was hard to know which end was up these days." Which part of being a single mother does Anita feel is "nice" and which makes things seem like "it was hard to know which end was up these days?" Is that a statement about the stigma of unwed motherhood? Or about the hectic pace of single mothers' lives? Or both?
In her haze of exhaustion and stress, Lucie agonizes: "When was it going to make sense? When was she going to wake up and not feel tired? When was it going to feel all right?" Is she typical of women today? Is Lucie's experience as a single mom more stressful than Anita's, where "the expected order of things" made all the decisions for her?
Catherine always feels out of step with the other members of the club, and at one point reflects: "She wasn't like the others. It was the one reason why she never really fit in. They were all quite…typical. And she, well, she was different." Is she really? Why? What, if anything, makes the other members of the group "typical" compared to Catherine?
Lucie is forced to defend herself when her brother accuses her of being selfish and not seeing how much help her mother needs: "There's no rule that a daughter has to do more than a son, and there's sure as hell no rule that single people should give up their lives so married people get a break." Is this true? Do you think Lucie's brothers are being unreasonable? Is Lucie being punished for her life choices or simply being forced to acknowledge that she's being pulled in different directions? How would you have reacted to that conversation?
Did Lucie make the right decision in not telling Will that he was Ginger's father? Darwin advised her to "think long and hard before you throw a nuclear bomb into his happy family life." Would you have thrown the bomb? Should Lucie have?
How would this story have been different if Anita had not been reunited with Sarah in Rome?
When she reaches out to K.C., Catherine tells her: "I'm still trying to define myself. I embraced my independence but somehow everything is just all about me. I am totally self-focused." Do you think Catherine has "defined herself" by the end of the book?
Discussion of grief and loss runs through both Knit Two and The Friday Night Knitting Club. As Anita says "We grieve loss. It's not always about death." What are Anita, Dakota, Catherine, Darwin, Lucie and K.C. grieving for? Are the men of the book—James, Marty and Nathan—also experiencing grief or loss?
After the flood at Walker and Daughter, Dakota and Peri decide to rebuild. Is this the right decision? How would their lives have changed—perhaps for the better—if they had not rebuilt the store Georgia founded?
In her acknowledgments, author Kate Jacobs says "Like the members of the club, I am fortunate to be surrounded by smart, independent women who come through for me whenever I need a helping hand." What's the "club" that fills that role in your life?
or
Not Currently Available for Direct Purchase