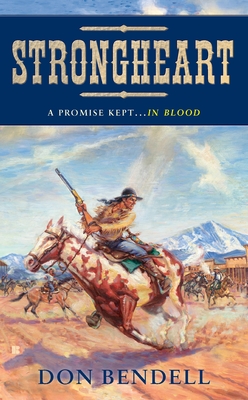 Strongheart: A Story of the Old West (Mass Market Paperbound)
A Story of the Old West
Berkley Books, 9780425231081, 210pp.
Publication Date: September 7, 2010
Description
Introducing a new Western series in the classic tradtion of Louis L'Amour. A son of both the Sioux and white worlds, Joshua Strongheart has two prized possessions-his father's Bowie knife and his stepfather's Colt .45 Peacemaker. And when his stage is robbed by a cold-blooded gang, Strongheart vows to show that revenge-just like that knife-cuts deep.
About the Author
Bestselling author Don Bendell has been critically compared with Louis L'Amour and has written 28 novels, including the Joshua Strongheart series: Strongheart, Blood Feather, The Indian Ring, and The Rider of Phantom Canyon. A former Green Beret and disabled Vietnam veteran, Don describes himself as "a real cowboy with a real horse and a real ranch," the Strongheart Ranch in southern Colorado.
Advertisement