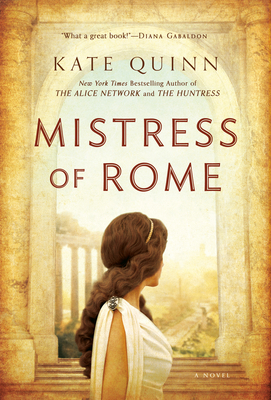 Mistress of Rome (Empress of Rome #1)
Paperback

* Individual store prices may vary.
Other Editions of This Title:
Digital Audiobook (2/9/2015)
MP3 CD (2/10/2015)
Compact Disc (2/10/2015)
Description
The first in an unforgettable historical saga from the New York Times bestselling author of The Alice Network and The Diamond Eye.

"So gripping, your hands are glued to the book, and so vivid it burns itself into your mind's eye and stays with you long after you turn the final page."—Diana Gabaldon, #1 New York Times bestselling author
 
First-century Rome: One young woman will hold the fate of an empire in her hands.

Thea, a captive from Judaea, is a clever and determined survivor hiding behind a slave's docile mask. Purchased as a toy for the spoiled heiress Lepida Pollia, Thea evades her mistress's spite and hones a secret passion for music. But when Thea wins the love of Rome's newest and most savage gladiator and dares to dream of a better life, the jealous Lepida tears the lovers apart and casts Thea out.

Rome offers many ways for the resourceful to survive, and Thea remakes herself as a singer for the Eternal 'City's glittering aristocrats. As she struggles for success and independence, her nightingale voice attracts a dangerous new admirer: the Emperor himself. But the passions of an all-powerful man come with a heavy price, and Thea finds herself fighting for both her soul and her destiny.

Many have tried to destroy the Emperor: a vengeful gladiator, an upright senator, a tormented soldier, a Vestal Virgin. But in the end, the life of Rome's most powerful man lies in the hands of one woman: the Emperor's mistress.
Praise For Mistress of Rome (Empress of Rome #1)…
Praise for Mistress of Rome

"So gripping, your hands are glued to the book, and so vivid it burns itself into your mind's eye and stays with you long after you turn the final page."—#1 New York Times bestselling author Diana Gabaldon

"Stunning...a masterful storyteller...It is no mean feat to write a novel that is both literary and a page-turner."—New York Times bestselling author Margaret George

"An intensely emotional spectacle…An exhilarating read."—New York Times bestselling author Kate Furnivall

"Equal parts intrigue and drama, action and good old-fashioned storytelling."—John Shors, author of Beneath a Marble Sky

"For sheer entertainment, drama, and page-turning storytelling, this tumultuous debut novel is well worth reading."—Library Journal

"Quinn's command of first-century Rome is matched only by her involvement with her characters; all of them, historical and invented, are compelling."—Publishers Weekly
Berkley, 9780425232477, 480pp.
Publication Date: April 6, 2010
About the Author
Kate Quinn is a native of Southern California. She attended Boston University, where she earned a bachelor's and master's degree in Classical Voice. A lifelong history buff, she has written four novels in the Empress of Rome Saga and two Novels of the Borgias, before moving to the twentieth century with The Alice Network and The Huntress. All her books have been translated into multiple languages.
From the moment we meet Arius we are also introduced to his inner demon. At his core the Barbarian is a noble and kind-hearted soul, while the voice that haunts him is a ruthless killer. How do you think this maniacal monologue ever began within him? How can his son avoid inheriting this same curse?
Sold into slavery and torn away from her one true love, Thea also carries with her the guilt and shame associated with the murder of her family. How does the habit of spilling her own blood help her cope with her troubled past? Which other characters participate in similar self-destructive tendencies and why?
Thea admits that even after sharing the Emperor's bed, and spending days on end with him, that she does not truly know Domitian at all. Does any character truly know the Emperor and, if so, why has he given them his confidence?
One on-going theme in this book is forbidden relationships. Nessus has a long-standing romantic relationship with Ganymede, an imperial slave. If both of these men are seen as servants in the eyes of Domitian, and it is not uncommon for Roman men to prefer male lovers, why do you think they choose to keep their feelings for one another a secret? What other characters have relationships, either romantic or platonic, that must remain undisclosed?
Lepida's cruelty towards Thea is incomparable. Does Thea ever show her the same level of cruelty? Does either character ever display any sort of mercy towards the other? Discuss the relationship between slave and master and the varying degrees of cruelty in slave/master pairings in this story.
The Emperor's astrologer, Nessus, reads Arius' palm after one of his great victories. Nessus foresees three fates: "He will die once by fire, once by the sword, and once as an old man." After "dying" by fire in the dark hall of the Gate of Death, Arius supposedly has a long full life ahead of him. Did he ever die by the sword in this story? Is this referring to the many "deaths" he suffers within the arena? What do you think this means?
The Empress, Lady Julia, and Thea all fear and hate Domitian. While we know his reasons for being so intrigued by Thea, what characteristics drew the Emperor to the other two women? How do women in this story empower themselves or each other when faced with incredible obstacles?
Lepida's disgust for Sabina is very clear to everyone from her servants to her own husband. Why do you think she hates her child so much? Why did she give up the chance to transform her daughter into an unconditionally adoring ally? Was Marcus' influence over their daughter too strong for Lepida to overcome or did she have other reasons?
Do you believe Marcus should've tried to divorce Lepida? Do you feel his influence in the senate would've been enough to expose Lepida? Was there anyone Marcus could have turned to for help in protecting himself and his family from Lepida's ambitions?
The themes of loyalty and betrayal lie at the heart of this story. The most striking example is one family's motto: "To be a Norbanus is to serve." Paulinus' loyalty to the Emperor is understandably strong at the onset, but why does his dedication remain once Domitian's true self is revealed? Why does he risk his life to save the Emperor? Why does he leave Thea for Lepida? Why do you think he betrays those who love him, yet protects those who would not hesitate to destroy him?
Discuss the impact of social class on the citizens of Rome. Aside from family name (Norbanus), deceit (Lepida), and ownership (Thea), what other ways can Romans advance from the level of society they are born into?
"Only one lord and god in Rome." Power is a questionable and ever-shifting force in the narrative. Who do you feel is the most powerful person in Rome and why? A slave with tremendous inner strength? A barbarian with incomparable physical prowess? A ruler with the all-encompassing influence? A priestess with divine certainty? Another character?
Paulinus' hatred of, and infatuation with, Lepida is an addiction. If he longs to be everything his father is, what is the connection he feels for this woman other than physical lust?
Lepida regards Thea as nothing more than a whore because of the sexual acts forced upon her in the Pollia home. However, during their lifetime it is Lepida who chose to have multiple partners while married. What other double standards appear throughout the course of this story? How do men and women on every level of society perpetuate them?
After a rather uncomfortable scene with the Emperor and several others, Marcus pleads with Calpurnia to remain betrothed to his son. Throughout both incidents, his concern for her safety is undeniable. Did their relationship grow from this point? Do you believe Marcus chose his son's bride with an ulterior motive? Why do you think Calpurnia chose to stay?