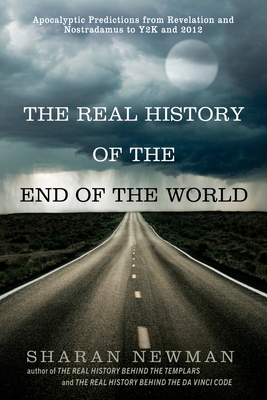 The Real History of the End of the World
Apocalyptic Predictions from Revelation and Nostradamus to Y2K and 2012
Paperback

* Individual store prices may vary.
Description
From the author of The Real History Behind the Templars--the origins and stories behind end-of-the-world predictions throughout history, from Revelations to 2012.

In entertaining and sharp prose, historian Sharan Newman explores theories of world destruction from ancient times up to the present day- theories which reveal as much about human nature as they do about the predominant historical, scientific, and religious beliefs of the time. Readers will find answers to the following end-of-times questions:

?Did the Mayans really say the world will end in December 2012?

?How have the signs in the New Testament Book of Revelations been interpreted over the years?

?How did ancient Egyptians, Norse, and Chinese think the world would end?

?When did Nostradamus predict that the last days would come?

?Does the I Ching reference 2012?

?Why didn't the world end in Y2K?

?Are meteors, global warming, super-volcanoes, and the threat of nuclear war signs that the end is near?
Praise For The Real History of the End of the World: Apocalyptic Predictions from Revelation and Nostradamus to Y2K and 2012…
Berkley, 9780425232538, 336pp.
Publication Date: April 6, 2010
About the Author
Sharan Newman is a longtime member of the Medieval Academy, has served on the advisory board for the Medieval Association of the Pacific, and is a Ph.D. candidate at UC Santa Barbara. Newman's medieval French mysteries have garnered Macavity, Agatha, and Anthony Award nominations, and she has won the Herodotus Award for Best Historical History.
or
Not Currently Available for Direct Purchase