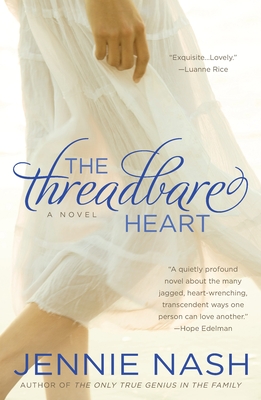 The Threadbare Heart
Paperback

* Individual store prices may vary.
Other Editions of This Title:
Hardcover, Large Print (6/1/2010)
Description
Jennie Nash's "winning debut,"* The Last Beach Bungalow, was followed by The Only True Genius in the Family, a "page-turning delight."** Now she introduces us to two women who learn the lessons of grief—and of hope…
A photo of her sons. A doormat from Target. Twenty-three tubs of fabric. Somehow it comforts Lily to list the things she lost when a wildfire engulfed the Santa Barbara avocado ranch she shared with her husband, Tom. He didn't make it out either. His last act was to save her grandmother's lace from the flames—an heirloom she has never been able to take scissors to, that she was saving for someday…
As she negotiates her way through her grief, mourning both the tangible and intangible, Lily wonders about her long marriage. Was it worth all the work, the self-denial? Did she stay with Tom just to avoid loneliness? Should she have been more like her mother, Eleanor— thrice-married and even now, approaching eighty, cavalier about men and, it seems, even about her daughter's emotions?
It is up to Lily to understand what she could still gain even when it seems that everything is lost. Someday has arrived…
*Publishers Weekly
**Book Club Classics
Praise For The Threadbare Heart…
"Jennie Nash writes with honesty and simple grace about the most complex human emotions… she uses sewing as a metaphor to stitch together the pieces of one family's life, following multiple characters through the intricacies of love, grief, and desire."
—Laura Brodie, author of
The Widow's Season
"Jennie Nash has written about love, both romantic and familial. I was riveted to the many hairpin turns in her lovely prose, and having just finished reading, feel both the trauma and comfort of a deeply felt and written novel."—Luanne Rice, New York Times bestselling author of The Deep Blue Sea for Beginners
Berkley, 9780425234105, 336pp.
Publication Date: May 4, 2010
The Threadbare Heart is as complex as any family album, with many characters and points of view. Did you identify with any of the characters? Discuss which ones and, if so, why.
Throughout The Threadbare Heart, Lily and Tom alternate between cherishing their knowledge of each other and wondering if they are capable of knowing each other at all. What does it mean to truly know someone?
Eleanor and Lily both see the avocado farm as the answer to their familial problems, but for different reasons. Eleanor has money to burn and wants her loved ones near, whereas Lily sees the opportunity as a fresh start that could reinvigorate her marriage. Are their expectations met?
Ryan constantly compares his relationship with Olivia to that of his parents. What are the major issues for them?
Lily is emotionally attached to the fabric she has collected throughout her life. She observes that Eleanor never holds on to things—or people—because in doing so it leaves a person vulnerable to pain. Lily says that for Eleanor "fabric is just a means to an end." What does she mean, and does it relate to Eleanor's attitude toward men?
Lily's friend Marilyn and her mother seem to share the belief that you should put yourself first in marriage and in life. Lily feels differently; she credits her willingness to compromise as one of the keys to her long marriage. Whose beliefs serve them better?
Were you surprised at Gordon's feelings for Eleanor? Why or why not?
The theme of love in marriage is at the core of The Threadbare Heart. According to Eleanor, love is an illusion and you're better off keeping it at a safe distance. On the opposite end of the spectrum is Gordon, who believes that love is a choice. Where does Lily fall on the spectrum? What effect does losing Tom have on her perception of love?
Do you think Eleanor deserves Gordon?
The crisis of Tom's death brings Olivia and Ryan closer together, although their problems are still very real. Can their marriage be saved? Where do you think they might be five years from now?
At one point Eleanor refers to her first husband's sudden death as an "elegant solution" to the dilemma of her unhappy marriage. Is her brutal honesty refreshing, cold, or somewhere in between?
Do you agree with Lily's decision to send Tom's (?) body back to Vermont to be buried in a cemetery instead of cremated?
Discuss the physical relationship between Jack and Lily. What do you think of Jack? Is he an opportunist taking advantage of a vulnerable person, or is there legitimacy to this informal sort of therapy known as sexual healing?
Why do you think Lily decides to incinerate her wedding ring? How is the process therapeutic for her?
Grandma Hattie's lace becomes a significant metaphor for untapped potential. As Lily puts it, "The life of the lace had been one of longing, of waiting, of stories not told." What does she finally decide to do with the lace, and what is the meaning of her decision?
or
Not Currently Available for Direct Purchase