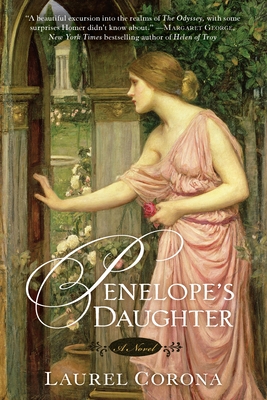 Penelope's Daughter
Paperback

* Individual store prices may vary.
Description
The award-winning author of The Four Seasons retells The Odyssey from the point of view of Odysseus and Penelope's daughter.

With her father Odysseus gone for twenty years, Xanthe barricades herself in her royal chambers to escape the rapacious suitors who would abduct her to gain the throne. Xanthe turns to her loom to weave the adventures of her life, from her upbringing among servants and slaves, to the years spent in hiding with her mother's cousin, Helen of Troy, to the passion of her sexual awakening in the arms of the man she loves.

And when a stranger dressed as a beggar appears at the palace, Xanthe wonders who will be the one to decide her future-a suitor she loathes, a brother she cannot respect, or a father who doesn't know she exists...
Berkley, 9780425236628, 368pp.
Publication Date: October 5, 2010
Eumaeus the swineherd once tells Xanthe that it is "better to be a worker on the oikos of a great man . . . than to be in his own country with no crown, no land, no possessions." What do you think of this view?
Helen feels strongly that a girl of Xanthe's age needs a lover, even if she is not yet married. What do you think of Helen's at­titude and her actions to ensure that Xanthe does indeed find a man with whom to experience passion?
Helen tells Xanthe "it is better to act, even badly and in ways you regret, than to be afraid of life." Do you agree?
Do gods and goddesses really visit the mortals in this book, or is it just their imaginations?
Do you ever find yourself viewing something as an omen? If so, how does it affect your thoughts or actions?
What do you think would have happened if Odysseus' ruse was successful and he had never gone off to the Trojan War? If he had never come home? If he had lost the battle with the suitors?
Based on Adreste's story, to what degree should Helen be held responsible for her actions in running off with Paris to Troy?
Xanthe uses her weaving as a jumping-off point for the telling of her story. If you were going to tell the story of one period in your own life, how would you represent it as a weaving (or another art form of your preference)?
or
Not Currently Available for Direct Purchase