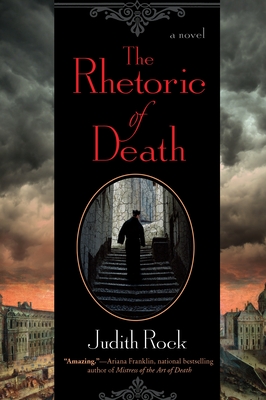 The Rhetoric of Death (A Charles du Luc Novel #2)
Paperback

* Individual store prices may vary.
Description
An "amazing"* debut historical novel (*Ariana Franklin, national betselling author of Grave Goods)

Paris, 1686: When The Bishop of Marseilles discovers that his young cousin Charles du Luc, former soldier and half-fledged Jesuit, has been helping heretics escape the king's dragoons, the bishop sends him far away-to Paris, where Charles is assigned to assist in teaching rhetoric and directing dance at the prestigious college of Louis le Grand.

Charles quickly embraces his new life and responsibilities. But on his first day, the school's star dancer disappears from rehearsal, and the next day another student is run down in the street. When the dancer's body is found under the worst possible circumstances, Charles is determined to find the killer in spite of being ordered to leave the investigation.
Berkley, 9780425236642, 384pp.
Publication Date: October 5, 2010
About the Author
Judith Rock, a modern dancer and choreographer for many years, founded Body and Soul Dance Company in Berkeley, California, toured extensively as a solo concert dancer, and studied baroque dance. Research for her PhD in art and theology took her to Paris, where she lived at the Jesuit Cultural Center and researched the seventeenth- and eighteenth-century ballets produced at the Paris Jesuit College of Louis le Grand.In a startling leap, Rock then spent several years as a police officer before taking that experience back to the stage as a playwright and actress. She was an auxiliary officer in the NYPD and later a part-time police officer in Minnesota, working midnight shifts.Rock has written on dance, art, and theology for many journals, and has been the artist in residence and taught and lectured at colleges, seminaries, and conferences across the United States and abroad. After years in New York, she and her husband now live in Sarasota, Florida. The Rhetoric of Death, her first novel, was a 2011 Barry Award nominee.
Discuss the significance of the arts, especially ballet, as a vital part of education during this period in France's history. Charles was an accomplished dancer as a youth but he took a very different path from his ballet training in school. Why do you think he ended up where he did, first as a soldier and then training to be a priest?
Being new to Louis Le Grand, and with a checkered past he'd rather keep hidden, Charles had much to lose by investigating Philippe's death. What do you think his reasons were for involving himself in the investigation?
Discuss the devious characters in the novel. How do some use their duplicitous nature for good, and others for evil?
When Charles finds the hidden staircase above the bakery he thinks "The stairs change everything." What do you think he means by this? Do you think Philippe's murder could have been avoided had the staircase not existed?
This time period (late 1600s) in France straddled modernity and medieval times. Do you think it affected the characters and their actions throughout the novel? Why or why not?
Religious persecution and power are main themes throughout the course of the novel. Discuss why religion was so tied up in government and education.
Le Picart summons Charles to his chamber and orders him to find Philippe's killer, even though he realizes it is against God's will. He asks, "What human action, after all, is completely free of sin?" Why do you think Le Picart wants Charles to find the killer?

Charles has participated in untoward acts in his past, but has chosen a life of service to God and the church. Do you think, based on his character and actions throughout the novel, that this is a true calling for him? Why or why not?
After M Doute disappears and Pernelle is hiding in Charles' chamber, Charles says his prayers but they do not bring him his usual peace (p 303, manuscript), as he listens to Pernelle's breathing deep into the night. Do you think it is because he is questioning his calling as a priest?
Jealousy runs rampant throughout the novel and is the reason for several characters' demise. Discuss how the time period might have spurred those feelings.

Do you think Charles' love for Pernelle takes away from his love for God?
Towards the end of the novel when Charles sees the Jeanne d'Arc statue, he realizes that belief in personal truth is better than power. Is this something that Charles considers throughout the novel when dealing with power structures in place (ie: church, college, caste, and government)?
Do you think the Society/church is just like every other power structure in France at the time?
Do you think Charles will stay with the church and become a priest?
or
Not Currently Available for Direct Purchase