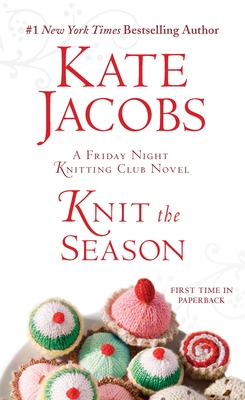 Knit the Season (Paperback)
Berkley Publishing Group, 9780425236765, 324pp.
Publication Date: November 2, 2010
* Individual store prices may vary.
or
Not Currently Available for Direct Purchase
Description
The ladies of the #1 New York Times bestselling The Friday Night Knitting Club celebrate special times with family and friends.
Not only are the holidays are just around the corner, the women who knit at Manhattan's Walker & Daughter have an extra reason to celebrate: there's a wedding planned for New Year's Day. In the meantime, college-age Dakota Walker is working to finish a sweater her mother started before Dakota was born. As she takes on her mother's pattern, she learns from her family and friends that there was much more history in these stitches than she had anticipated, and that to build on her mother's legacy, Dakota must allow herself to become the woman she truly desires to be...
About the Author
Kate Jacobs is the author of the #1 New York Times bestseller The Friday Night Knitting Club, Knit Two, Knit the Season, and Comfort Food.
During her lifetime, Georgia was a strong role model for everyone in the Friday Night Knitting Club, most of all for her daughter Dakota. How do Georgia's values of sacrifice and dedication to hard work influence Dakota's choices?
Change is a major theme in Knit the Season: new romantic partners taking the place of dearly departed, the shop changing hands, homes being recreated and re-imagined. Which characters fear change, and why?
How is Dakota able to bear the burden of responsibility that is Walker & Daughter? What resources are available to her, both tangible and intangible?
When KC laments to Catherine about the romantic relationships that are altering the club, she explains the root of her anxiety this way: "There's a lot of programming about what it means to be women, and not everyone is going to have that life. The absence of what you're taught to want can make it hard. Even when you're the one doing the choosing" (p 78). What do you think she means by this?
For Darwin, mother of twins and compulsive family documentarist, living in the moment is challenging and as parents she and Dan "savor an experience only in the retelling" (p 82). Is it possible to make and preserve memories simultaneously? How does she resolve this conflict?
Why is Catherine so willing to commit to Marco, yet so resistant to the concept of marriage?
As Catherine is preparing for her wedding to Marco, she reflects that she's in control this time, unlike when she married her first husband Adam. What do you think she means when she describes her relationship to Marco as "based in reality"?
Do you find Anita's son Nathan to be a sympathetic character?
Gran's home in Scotland is what you might call the birthplace and bastion of Walker family traditions. She wears the same handknit cardigan every year, and there's a definite order of activities on Christmas day beginning with the turkey in the oven and ending with satisfied stomachs and smiles all around. She predicts this will be the "most triumphant Christmas" ever. Does this proclamation seem optimistic in hindsight? What gives her such confidence?
Was the photo of Georgia in her hospital bed an appropriate gift for Bess Walker?
Do you agree with KC's decision to deliberately delay Nathan's arrival at the wedding ceremony?
The relationship between Bess Walker and members of the Friday Night Knitting Club undergoes significant change. Discuss the circumstances that allow Bess's acceptance into the group.
While sharing fond memories of Georgia's role in the club, Lucie remarks, "Georgia was not a saint. She was so genuine. That's what drew us all to her....Nobody's completely got it together in the Friday Night Knitting Club. It's a condition of membership" (p 56). By the end of Knit the Season, does everyone still fulfill this condition?
Will the Friday Night Knitting Club live on? Who will be the chief guardian(s) of tradition?
Advertisement