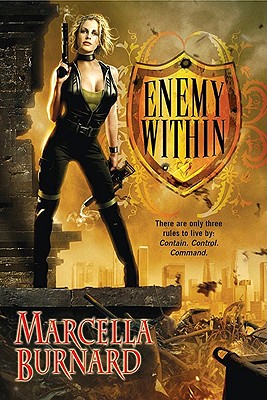 Enemy Within (Paperback)
Berkley Publishing Group, 9780425236857, 342pp.
Publication Date: November 2, 2010
Other Editions of This Title:
Paperback (7/17/2019)
* Individual store prices may vary.
Description
An intergalactic cold war-and some heated passion- from an inventive new voice in futuristic romance. After a stint in an alien prison, Captain Ari Rose wonders why she even bothered to survive. Stripped of her command and banished to her father's scientific expedition to finish a Ph.D. she doesn't want, Ari never planned to languish quietly behind a desk. She wasn't built for it, either. But when pirates commandeer her father's ship, Ari once again becomes a prisoner. As far as pirate leader Cullin is concerned, Ari's past imprisonment puts her dead center in Cullin's sights. If she hasn't been brainwashed and returned as a spy, then he's convinced she must be part of a traitorous alliance endangering billions of lives. Cullin can't afford the desire she fires within him and he'll stop at nothing, including destroying her, to uncover the truth.
About the Author
Marcella Burnard is a member of the Romance Writers of America's Fantasy, Futuristic, and Paranormal special-interest chapter. Growing up as an air force brat, she traveled all over the United States and spent two years in Iceland. When the tiny base library ran out of interesting books, she began writing her own stories. She currently lives with her husband and their cats aboard a sailboat on the Puget Sound and writes full-time.
or
Not Currently Available for Direct Purchase