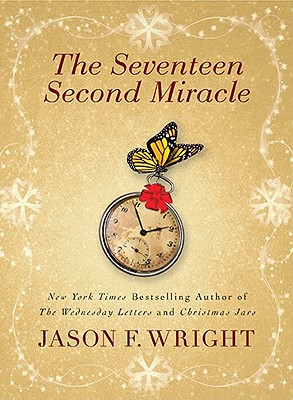 The Seventeen Second Miracle
Paperback

* Individual store prices may vary.
Other Editions of This Title:
Digital Audiobook (10/4/2010)
Description
From the New York Times bestselling author of The Wednesday Letters and The Cross Gardener, a story of small kindnesses-and life-changing miracles.

Seventeen seconds can change a life forever. This is what Rex Connor learned on a gorgeous summer afternoon in 1970 when, as a lifeguard, he diverted his gaze for seventeen seconds and tragedy occurred. Forty years later the waves of that day still ripple through the lives of countless people, including his son, Cole.

Cole Connor has become a patient teacher, and now he has invited three struggling teenagers to visit him on his front porch to learn about Rex Connor—and the Seventeen Second Miracle. Together they will learn how Rex Connor could have allowed seventeen seconds to destroy him, but instead he chose to live every day believing the smallest of acts could change the world for good. And the students, each with their own secrets and private pains, will begin to understand that even tragedy brings lessons. Even pain brings comfort. Even death brings miracles. A seventeen second miracle can change a life—if you let it.
Praise For The Seventeen Second Miracle…
"Sharp prose, clever characterizations, thought-provoking insights….fresh and spiritual."
– Don Piper,
New York Times
bestselling author of
90 Minutes in Heaven and Heaven is Real
"Passionate, spiritual and thought-provoking…[A] beautifully written book."
– Glenn Beck, talk radio and FOX news host, #1 New York Times bestselling author
"Celebrates the incredible joys of the human experience."
– Kevin Milne, author of The Nine Lessons
"Fans of author Jason F. Wright's previous inspirational novels…will delight in this uplifting tale."
– Birmingham Magazine
"Jason Wright's storytelling captures the reader's heart and draws them along on the journey to find forgiveness, acceptance and peace through this loving tale."
– Wichita Falls Times Record News
"The Cross Gardener is a quiet book with a quiet message of hope…Wright is to be commended for his passion and commitment to his subject."
– Deseret News
"Plenty of uplift and tradition-affirming sentiment."
– Publishers Weekly
Berkley, 9780425237946, 304pp.
Publication Date: September 28, 2010
About the Author
Jason F. Wright is the national bestselling author of
Christmas Jars
. He's also a consultant whose editorial articles on politics, pop culture, and public policy have appeared in newspapers and magazines nationwide. He serves as founder and managing editor of the widely read political destination, PoliticalDerby.com.
Jason fell in love with Virginia's Shenandoah Valley while researching the area for The Wednesday Letters, and with the enthusiastic blessing of his wife, Kodi, he recently relocated with her and their four children to the historic town of Woodstock. A sign on their door says, "Friends welcome. Family by appointment only."
Why do you think most people blame Rex for Flick's drowning? Do you think that is a fair assessment? Why or why not?
Losing a child is an emotional hardship. Do you think Flick's mother was so unforgiving of Rex because she thought he could have prevented Flick's death, or is there something more to her ire?
Forgiveness can be a slow process. Discuss why Sparks and Rex stay together even after everything that's happened in their relationship, and to her family. Did you ever doubt they would be able to make their relationship work?
Why do you think Sparks was so quick to forgive Rex and help him heal?
Discuss the significance of Cole and Jade's porch and how it becomes a point of contention when Jade considers it "Cole's porch," but also how it becomes a haven for them and others.
Jade and Cole cannot have children and Jade had become "defeated with God." At one point, Jade says "I won't feel sorry for myself and blame God. I won't. I'll just live a different life than the one I dreamed of" (p 114 manuscript). Discuss how this tests their faith and marriage.
Rex "knew no strangers" (p 128 manuscript). How does this work in context with his life's work in performing, witnessing, and collecting seventeen-second miracle?
Jade gives Cole braids that symbolize the past, present, and future and reminds him to remember what the Discussions are really about. Why do you think it took so long for Jade to have this conversation with him? How do you think it changed how Cole led the Discussions from then on?
Would you consider the incident with Travis on the Mall a "failed miracle?" Why or why not? Are there other examples throughout the novel where the characters are confronted with a "failed miracle," only to have their faith see them through?
At the end of chapter 31, Cole says, "I retrieved Travis's watch. It worked, but it was badly beaten" (pg 152 manuscript). How is this symbolic of what just happened in the story? Were Travis's actions toward Cole justified after the incident?
Why do you think Jade is willing to give up Paper Gems if they can't arrest the arsonist? How does this exemplify the type of person she is?
As an apology to Jade, Cole buys three dozen roses and tucks a card into each vase, telling her to open them in any order. Discuss the symbolism and significance of the order in which she opens them: "You. I. Love."
Cole and Jade fight on their honeymoon because Cole is performing a miracle after Jade asks him not to get involved. Is it ever possible for a miracle to be detrimental?
At one point, Cole contemplates that his father "raised me in seventeen second miracles." Do you think there is any truth to this statement?
Do you think that Cole was better prepared for the Discussions by not following in his father's footsteps? Why or why not?
Discuss the difference between "being good" and "goody-goody" (pg 226 manuscript) in the context of the story and Rex's life.
Have you ever performed or experienced a seventeen second miracle?
or
Not Currently Available for Direct Purchase