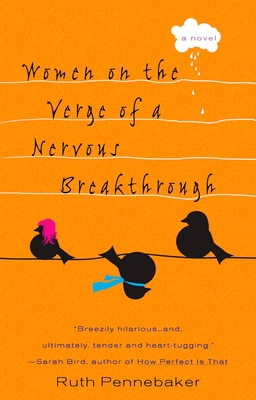 Women on the Verge of a Nervous Breakthrough
Paperback

* Individual store prices may vary.
Description
Joanie's ex-husband is having a baby with his new girlfriend. Joanie won't be having more babies, since she's decided never to have sex again.

But she still has her teenaged daughter Caroline to care for. And thanks to the recession, her elderly mother Ivy as well. Her daughter can't seem to exist without texting, and her mother brags about "goggling,"-while Joanie, back in the workforce, is still trying to figure out her office computer. And how to fend off the advances of her coworker Bruce.

Joanie, Caroline, and Ivy are stuck under the same roof, and it isn't easy. But sometimes they surprise each other-and themselves. And through their differences they learn that it is possible to undo the mistakes of the past.
Berkley, 9780425238561, 320pp.
Publication Date: January 4, 2011
About the Author
Ruth Pennebaker's first novel, Don't Think Twice, was an ALA Best Book for Young Adults. Pennebaker is a regular contributor to the Dallas Morning News.
Why did Joanie feel the need to tell Caroline that Richard and B.J. are expecting a baby instead of letting Richard tell his daughter himself? How did Richard react to the news that Joanie told Caroline before he had a chance to and was his reaction justified?
Ivy knows it's wrong to have a favorite child, yet she admits to herself that David is her favorite, despite the fact that Joanie is the one who took her in. What does this say about Ivy? What reasons does she give for considering David her favorite even though she barely talks to him and her daughter is the one who is caring for her in her old age?
When Nadine and Joanie are talking about men and their relationships with their mothers, Joanie recalls that when she first started dating Richard, he bought his mom a particularly large bouquet for Mother's Day. She learned that it was because Richard's father had just left his mother for a more exciting life and Joanie reflects on how Richard turned into his father. How does this story offer insight into their relationship? Was Richard's family situation foreshowing and if so, why was it still so shocking to Joanie that Richard left her for a more exciting life?
What was Ivy feeling when the woman in the clothing store made rude comments to her? In what ways did this perpetuate Ivy's feelings of uselessness, of irrelevance? Is this an accurate depiction of how we treat older women in society?
When Joanie blows up at Ivy during dinner, they are each handling the argument very differently. How is this a clarifying moment of how different generations handle hard situations?
What were the reasons for Ivy befriending Lupe? Was it completely out of loneliness or was she trying to reach out beyond her comfort zone and find out more about a person who is so different from her (Hispanic, a working mother, etc.)? Why did she care so much about Lupe and why was she so devastated by her sudden departure?
How did Joanie's reaction to Caroline and Sondra dying their hair prove that she relates to Caroline more than Caroline thinks? How does it show she's in touch with her daughter and why was Joanie herself surprised at her own reaction?
Do you think that Caroline and Sondra's rebellious activity—smoking cigarettes and marijuana and dying their hair—is indicative of dangerous behavior? Or are they just being rebellious? Do you feel they will eventually get over this phase once they get more comfortable with themselves or are they heading down a bad path?
Are all the reasons Joanie gives for not getting back out there and dating again after the divorce really just excuses? Is her reluctance really just because she's afraid, reluctant to try something new or do you believe that she is still healing and needs to take this time to herself?
Ivy starts acting out in strange ways. She lies to the church receptionist about Myra and Francine hating flowers, she shoplifts and she gets thrown out of the diner. What is the reason for this behavior? Why is she suddenly doing things she normally wouldn't do?
What is going through Ivy's mind when she breaks down in the doctor's office? She hasn't cried like that in years, maybe even ever. What was it about being in that situation and having the doctor act her so tender towards her that made her break down?
When B.J. called Caroline's house and needed her help, was it surprising how much Caroline cared? She even interrupted her mom's 50th birthday celebration to help her help B.J. Why does Caroline care so much? Why is she suddenly so concerned for B.J.'s well-being and whether or not she is scared or lonely?
After Caroline realizes that Henry is just interested in her because she is smart and will help him in school, she isn't sad or crushed. In fact, she realizes that she needs to change and looks forward to it. How does this show incredible insight for a 15 year-old girl?
At the end of the book, do you feel that all three women are on their way to being ok? Are they all in a better place emotionally than they were at the beginning of the book? What incidents or events happened to make you feel one way or another?
or
Not Currently Available for Direct Purchase