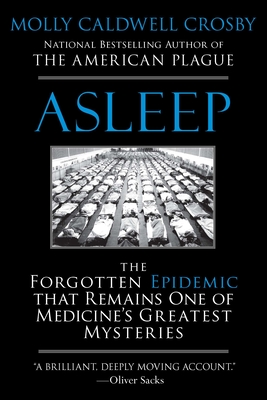 Asleep: The Forgotten Epidemic That Remains One of Medicine's Greatest Mysteries (Paperback)
The Forgotten Epidemic That Remains One of Medicine's Greatest Mysteries
Berkley Publishing Group, 9780425238738, 291pp.
Publication Date: February 1, 2011
Description
A fascinating look at a bizarre, forgotten epidemic from the national bestselling author of The American Plague. In 1918, a world war raged, and a lethal strain of influenza circled the globe. In the midst of all this death, a bizarre disease appeared in Europe. Eventually known as encephalitis lethargica, or sleeping sickness, it spread worldwide, leaving millions dead or locked in institutions. Then, in 1927, it disappeared as suddenly as it arrived. Asleep, set in 1920s and '30s New York, follows a group of neurologists through hospitals and asylums as they try to solve this epidemic and treat its victims-who learned the worst fate was not dying of it, but surviving it.
About the Author
Molly Caldwell Crosby is the national bestselling author of Asleep: The Forgotten Epidemic That Remains One of Medicine's Greatest Mysteries and The American Plague: The Untold Story of Yellow Fever, the Epidemic That Shaped Our History, which has been nominated for several awards. Crosby holds a master's degree in nonfiction and science writing from Johns Hopkins University and previously worked for National Geographic magazine. Her writing has appeared in Newsweek, Health, and USA Today, among others.
Advertisement